4 Ways to Use Our Tinted Balm as a Multi-Stick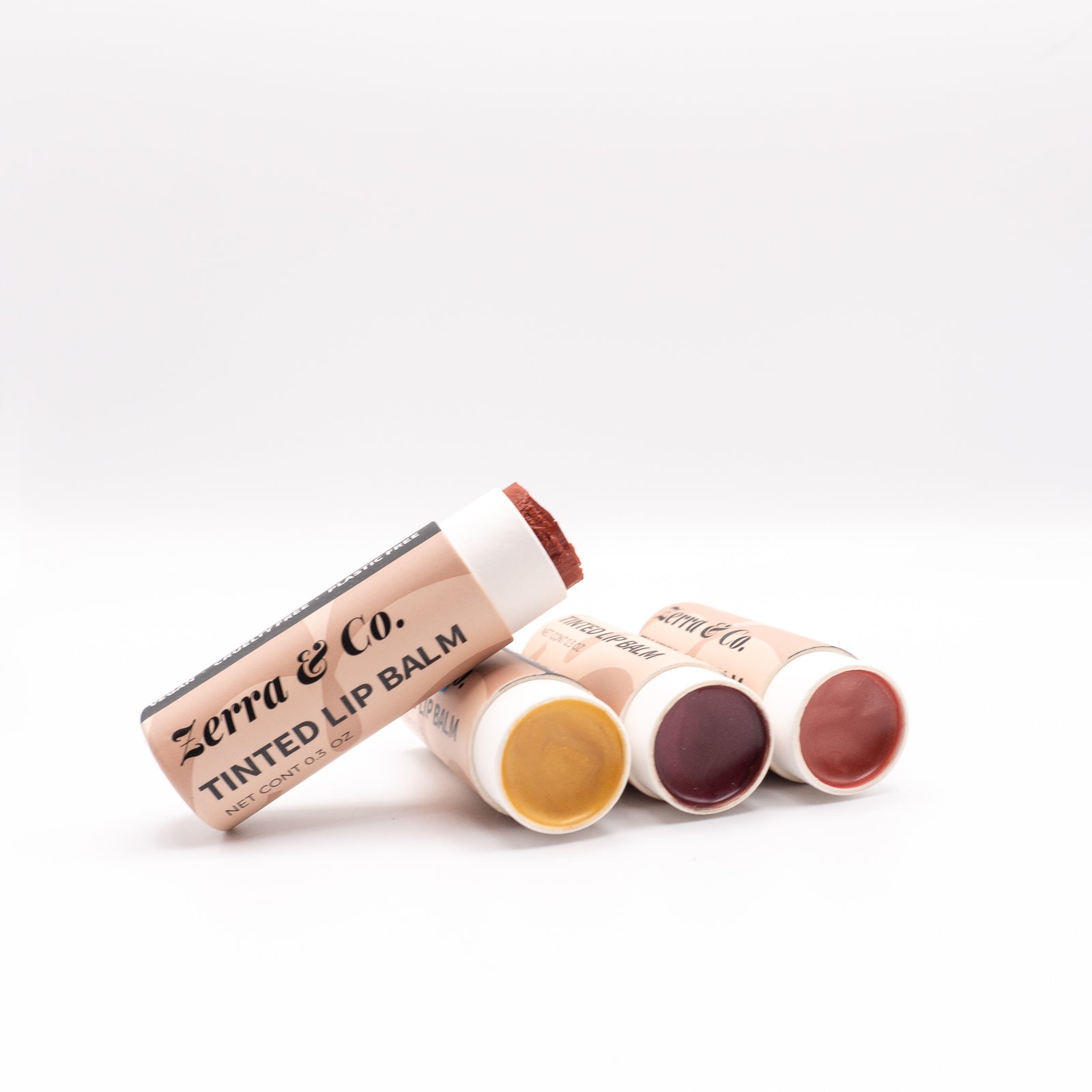 Nothing simplifies a makeup routine like a multi-stick, and you know we are all about simplicity over here at Zerra & Co.
So whether you're looking for a way to be out the door quicker, minimize your makeup collection, or simplify your routine, our collection of plastic-free tinted balms can help you achieve exactly that.
In combination with our Mineral Foundation and The Mascara, our Tinted Lip Balms can totally round out your minimalist makeup routine while keeping it eco friendly. Here's a few creative ways to use them as a multi-stick:
Tinted Balms for Lips
No surprise here - the most obvious and common way to use our Tinted Balms is as a lip color. But we'll forever be in love with using these as lip color because they give you some lovely, pigmented color to complete your makeup look, without drying out your lips like so many standard lipsticks and lip stains. Instead, they keep your lips soft and luxurious! 
Tinted Balms as Blush
Keep it cheeky and use our Tinted Balms as a blush by swiping directly onto the apples of your cheeks and using your fingers to gently massage it into any areas you'd normally apply a powder blush. You can also dab a bit onto the bridge of your nose for a natural, sunkissed look!
The shade Antique Pink is great for a very subtle pink blush, while darker shades like Sugar Plum and our newest shade, Poppy Fields, give you a bigger pop of color.
Tinted Balms as Highlighter
You can also use our shade Gold Dust as a sunny, shimmery highlighter. Gently dab Gold Dust onto your upper cheek bones or anywhere you'd typically apply highlighter such as your Cupid's Bow or just under your brows for a golden glow.
We love this golden highlighter with a summery makeup look!
Tinted Balm as Eyeshadow
Get really creative and try applying your favorite Tinted Balm as a cream eyeshadow! Wash your hands with a gentle cleanser, then use a finger to gently apply the balm directly to your eyelids. For a more subtle look, you can apply it just to your lids, or for a bolder look apply it in and above your crease as well.
Using a balm as an eyeshadow can be a great alternative to powder on days when your eyes are feeling more sensitive as well because you won't get any fallout irritating your eyes like you sometimes get with powders.
__________
All in all, there are so many fun ways to incorporate Tinted Balms into your makeup looks, and serve as a great reminder that you don't need to have a ton of products to achieve a look that's all your own. They are also great substitutes for your powdered products on days when you need something a little more moisturizing or when your skin is feeling particularly sensitive.
What are your favorite ways to use our Tinted Balms? Show us by tagging us on Instagram @zerra.and.co - we love seeing all your gorgeous looks!
---