Beginner's Guide to Creating an Eco-Friendly Skincare Routine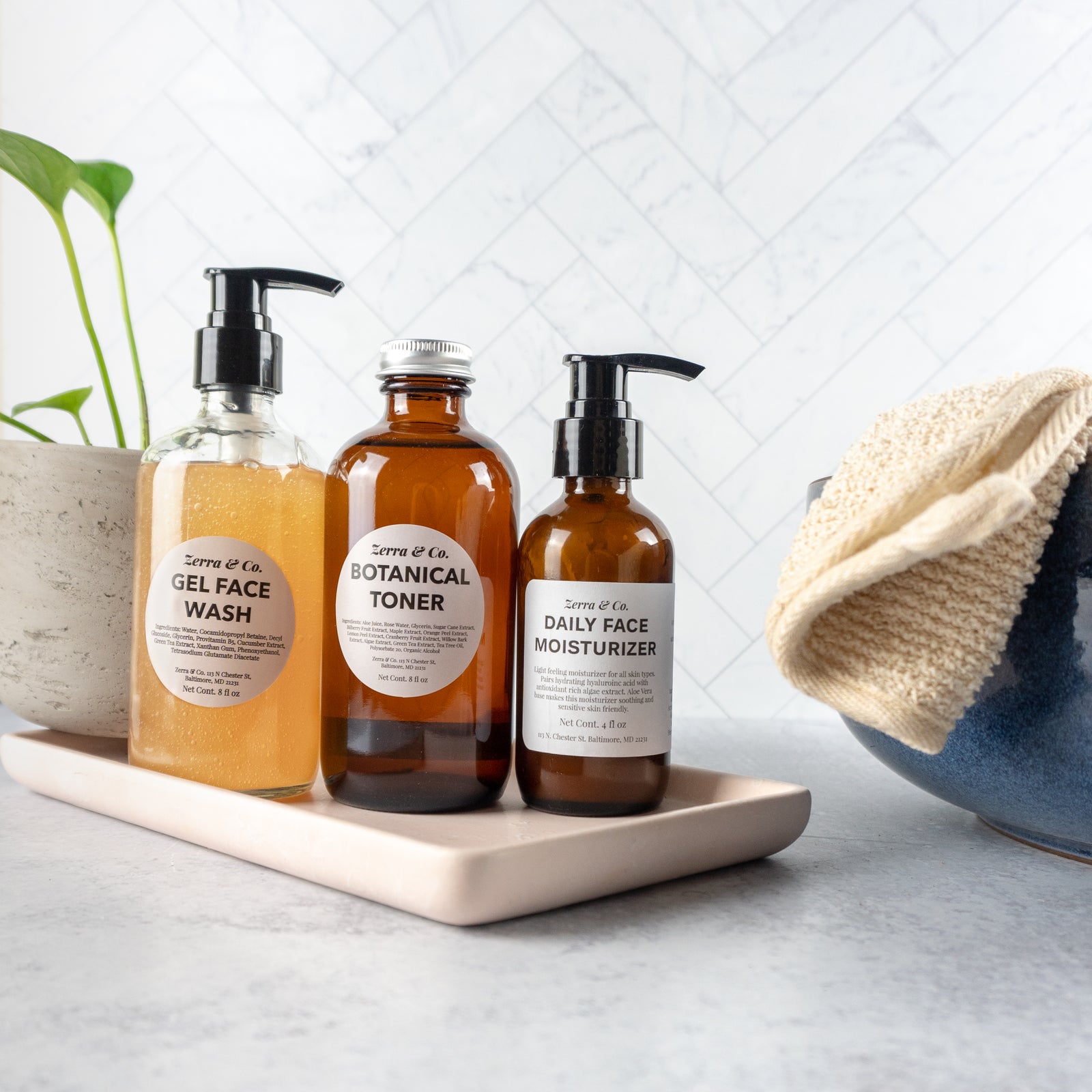 Creating a skincare routine that's right for your specific skin type and needs is hard enough as it is, and we know it can feel even more intimidating when you try to make it sustainable.
So if you're a beginner to the world of eco-friendly skincare, buckle in, because we'll help you create the fully rounded (yet still simple!) skincare routine built for sustainable living.
Quick Tips for Establishing a Skincare Routine
Before we jump right into our recommended sustainable skincare routine, let's go over some of the basics for getting started with establishing your skincare routine.
As a general rule, it's good to build a foundation off of a twice a day routine: your morning and night routine. We all know it's important to remove your makeup and wash the day away at night, but morning routines are important too! In the morning, your skin can benefit from removing any dead skin cells or oils your skin may have produced overnight. 

Adjust your morning and night routine as needed. Depending on your skin type, your skin may need different things from your morning and night routine, so adjust as you go paying attention to if your skin is dry or oily, irritated by certain products, or if you're needing more cleansing power.

Start simple, and watch how your skin reacts. Never force a product if it's causing painful stinging, rashes, or excess inflammation.

That being said, a temporary flare up such as a breakout or dryness can sometimes happen when switching to some new products: this is called

skin purging

. It's totally normal!

Don't forget about your neck and chest! Your neck also has sensitive skin similar to your face that needs attention, so don't forget about it especially when moisturizing, and your chest is often exposed to the elements just as much as your face, yet doesn't get as much attention!
Our Recommended Sustainable Skincare Routine
To make it easy, let's break it down into some of the most common elements of a skincare routine, why they're important, and how you can incorporate those products into your skincare routine sustainably. You certainly don't have to incorporate every single item into your routine, so choose what works best to address your skin's needs. 
Makeup Remover
Makeup remover is a must if you wear makeup. It differs from a regular cleanser in that it's specially formulated to remove stubborn makeup that can otherwise clog your pores, cause dryness, lead to eye and skin irritation, and a host of other problems. 
Using a makeup remover also prevents you from scrubbing too harshly when you try to use a cleanser to remove your makeup, which can cause more skin irritation. Plus if you go in with your cleansers without removing makeup, the excess makeup can act like a barrier preventing your cleanser from properly removing oil buildup on your skin.
Eco-Friendly Makeup Removers
If you're looking for a liquid makeup remover, skip the plastic bottles with hard-to-recycle components and try our Makeup Remover. It comes in a glass bottle with a metal lid and is plastic free!
You can also try a solid makeup remover, which is amazing for on-the-go touch ups and traveling. The Eraser is our zero waste makeup remover bar that gently melts away even the most stubborn makeup.
In a pinch, some oils can also work well to remove makeup such as olive oil or coconut oil. 
Cleanser
A good cleanser is important for every skincare routine, as it will remove any impurities you pick up through daily life as well as dead skin cells, excess oil, and bacteria.
If you're eager to create a minimal or zero waste skincare routine, don't immediately reach for your bar of body soap when it comes to your face; body soap is not formulated for your more sensitive facial skin, and can contain harsh cleansers that strip your skin. If you desperately want to keep a minimal and eco-friendly bathroom, a PH balanced shampoo bar can sometimes be a good option.
Eco-Friendly Cleansers
Facial cleansing bars are a great option for a zero waste cleanser. There are a variety of options to choose from, and they are usually fairly priced as far as eco-friendly skincare goes. Give The Cleanser a try if you're looking for a gentle cleanser that works well with all skin types (including sensitive skin!).
If you prefer a bottled cleanser that's still sustainably packaged, our Gel Face Wash is also gentle for all skin types, and comes in a glass bottle with a reusable pump top and plastic free refills are available online, or you can refill your bottle in store at many of these locations!
Exfoliator
Adding an exfoliator into your skincare routine is optional, but there's some great benefits especially when your skin appears dry and dull. When done properly, exfoliating removes the barrier of dead skin cells clogging the skin and uncovers fresh new cells below leaving your skin looking brighter and smoother.
It's important not to overdo it though: we recommend 1-2 times a week at most. Excess exfoliation can cause irritation and even skin damage. If you have combination skin, focus on exfoliating the dry patches to avoid damaging healthy skin areas.
You also want to make sure you're only using exfoliators specifically made for facial skin - body exfoliators and some common DIY exfoliators are far too abrasive for sensitive facial skin.
Eco-Friendly Exfoliators
Unfortunately many common drugstore facial exfoliators come in hard to recycle plastic tubs and tubes that usually end up in landfill.
The Exfoliator is our solid facial exfoliator bar made with biodegradable jojoba & castor beads instead of plastic micro-beads. It gently exfoliates away dead skin without irritation. Like all our solid skincare bars, it's totally plastic free!
Face Masks
Face masks are another optional addition to skincare routine, but they can be wonderful for more targeted treatment around your personal needs. We recommend using a face mask about once a week. 
With thousands of options available (many of which are far from eco-friendly), this category can seem a little overwhelming. We like to keep it simple around here, so here are a few basic things to look out for when you're picking out face masks to add to your routine.
Clay based face masks: clay based masks are great for absorbing excess oil that may contribute to mild acne such as blackheads and pimples. It can also help balance your skin and works wonders at removing bacteria, dirt, and build-up.

Aloe Vera face masks: cooling masks such as Aloe and cucumber masks are a good choice for calming and soothing your skin. Aloe is also naturally healing and moisturizing, making it a perfect addition to your summer routine, especially when your cheeks get a little sun-kissed!

Active Ingredients: masks with active ingredients such as

AHA and BHA

narrow in even more on your skin's needs. AHA and BHA are active ingredients that are often used to prevent and treat acne, improve skin texture, and decrease inflammation.
Eco-Friendly Face Masks
Common sheet masks get tossed in the trash after just one use, making them hard on the planet and hard on your wallet too. Opt for sustainably packaged face masks with better, more concentrated ingredients so a little can go a long way.
Our Activated Charcoal Detox Mask can help to remove bacteria, dirt, and build-up on the skin. Allantoin can help to reduce visible inflammation and acne, while Oatmeal helps to soothe irritated or sensitive skin. It comes in a small glass jar with a metal lid and is plastic free.
The Green Tea Radiance Mask is made with a Papaya and Pineapple base to gently exfoliate and remove dry, dead skin cells. It also includes moisturizing Aloe and Green Tea Extract, which is high in antioxidants and helps to even skin tone.
Toner
There are only two kinds of toners that are really worth having in your daily skincare routine: the ones that hydrate or the ones that gently exfoliate/clarify skin. Choose which one is best for you based on your daily skincare needs.
Clarifying toners such as our Botanical Toner can help even skin tone and reduce the appearance of blemishes, scarring, and sun spots.
Hydrating toners are like a watery moisturizer, these are hard to find but are great for people with really dry skin
Eco-Friendly Toners
Our Botanical Toner is a customer favorite - plastic free in a glass bottle with a metal cap, this toner is make with an Aloe Juice and Rose Water base that won't strip skin, and the dash of sugar-derived Polysorbate will help pick up any remaining grime or dirt. We packed this toner full of extracts to make it naturally hydrating and full of skin loving nutrients like green tea extract.
Serums
Although serums are totally optional, they are another good opportunity to hone in on your specific struggles. We all have one skincare problem we'd pay top $$$ to fix, and sometimes serums can give us the help we're looking for.
Serums are often more expensive per ounce than other products, so we recommend you try a basic routine for a month before adding in serums. You might be surprised at what the ingredients just in your high quality cleanser and moisturizer can accomplish!
When you are ready for a serum, here's what to look out for:
To even out skin tone: AHA's/BHA's work wonders for evening out your complexion and skin texture. Just don't stack your serum with other products containing these ingredients or you can damage skin.

For Acne prone and/or oily skin: Zinc and Niacinamide or Salicylic Acid are great solutions for acne prone and oily skin.

For Dry, flaky skin: Hyaluronic Acid and B5 boosts skin hydration for smoother and plumper skin and strengthens the skin barrier to protect skin from damage.
Eco-Friendly Serums
Dew Mighty has a collection of plastic free, vegan, solid serums to choose from!
Moisturizer
Moisturizing is a must for your skincare routine, no matter your skin type - it helps protect your skin's barrier and keeps your skin healthy and hydrated, fighting signs of aging. Apply your moisturizer morning and night to lock in moisture and prevent your skin from drying out. 
Using a moisturizer can also help you to lock in all the goodness from your serums. Don't forget to moisturize your neck and chest too!
Eco-Friendly Moisturizers
Our Daily Face Moisturizer is formulated for all skin types and is sensitive skin friendly. This moisturizer is made with hyaluronic acid and squalene, which gives your skin deep hydration without feeling heavy or greasy on skin. This liquid moisturizer comes in a refillable glass bottle with a reusable pump top.
The Moisturizer is our Concentrated waterless moisturizer bar. Made with Macadamia Nut Oil, Evening Primrose Oil, and Mango Oil for superior hydration without leaving a heavy or greasy feeling. It comes in a reusable metal tin and is 100% plastic free!
Face Oils
Although facial oils are optional, different types of face oils have unique properties that can be the cherry on top to your sustainable skincare routine. One of the main benefits of a face oil is its ability to seal in moisture for an extended period of time, making it a great addition to your nighttime skincare routine. Face oils can also help reduce signs of aging and wear by enhancing your skin's natural elasticity and strengthening your skin's barrier even further.
Contrary to what you might think, face oils aren't just for dry skin! 
Eco-Friendly Face Oils
Our Facial oil is available in two special formulations: our Dry Skin Formula and our Oily Skin Formula. Both are blended with oils that will balance out your natural skin type and provide ultimate hydration and locked in protection. Both are packaged in glass dropper bottles that are eligible for our Container Return Program.
xoxo,
Brittney Kiera
Content Curator - Zerra & Co.
---