How to Care for Your Lotion Bars (and Keep Them From Melting!)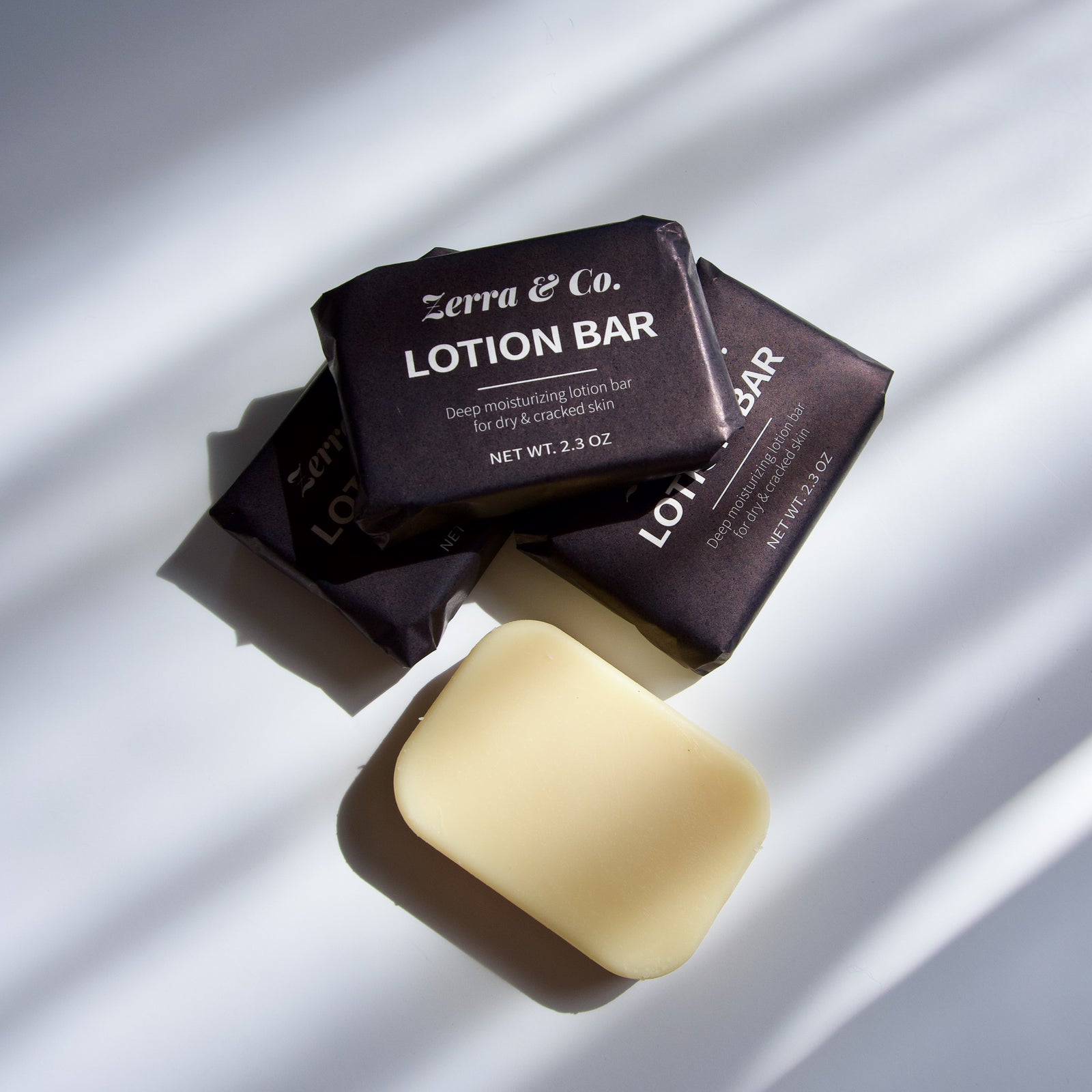 As summer sets in throughout the US and Canada, it's time to start thinking about *drumroll please* … how to store your lotion bars!
Okay, I know it's not the most exciting thing to put on your summer to-do list, but these quick precautions are worth it to avoid finding a sad, melted lotion bar in your car on a sunny morning. Or worse, receiving a melted lotion bar in the mail. 
With that said, let's talk about how to care for your lotion bars and keep them from melting, plus what to do if your lotion bar does indeed melt.
Zerra & Co.'s Vegan Lotion Bars
First off, if you're looking for a vegan lotion bar that's beeswax free, you're in the right place!
Our Zero Waste Lotion Bars are made with a candelilla wax base, combined with ultra-moisturizing ingredients like olive oil, shea butter, and coconut oil.
We have an unscented lotion bar, along with three scents: Cedar Eucalyptus, Orange Bergamont, and Lavendar Ylang Ylang. Plus, all our lotion bars are made without harmful fragrances; instead, they are scented with essential oils.
Finally, our lotion bars are zero waste! They ship to you carbon neutral and plastic free.
Plan Ahead When Ordering a Lotion Bar
When it comes to caring for your lotion bar, it's best to start at the very beginning - receiving your lotion bar. Nothing could be more frustrating than opening your box only to find your brand new lotion bar completely melted. To keep that from happening, try to be home or have someone home when your package is predicted to be delivered during the warmer seasons.
You can use the tracking number we send you in your order confirmation email to check delivery updates, or you could also use the Shop app which will notify you of your package's progress.
If there's simply no way for anyone to be home, you could also ask a kind neighbor to bring it inside for you.
The Do's and Don'ts of Storing your Lotion Bars
We promise it's not that hard and we don't want you thinking lotion bars are just melting all over the place, so we will keep it short and sweet. Here's some quick tips for storing lotion bars and some things to avoid.
Do
Store your lotion bar in one of our Lotion Bar Tins, or some other container that will, well,

contain it

if it does melt.

Make sure you or someone else can bring it inside when you order it.

Keep it at room temperature. Lotion bars are made to melt on your skin, so they will melt if they get much warmer than body temp.

Stick it in the fridge for safe keeping on especially hot days if your house warms up.
Don't
Leave your lotion bar in a hot car. Sure, your car would smell fantastic, but you'd have quite a mess on your hands. And your car.

Store your lotion bar next to a sunny window, or in a hot room.

Leave it anywhere that's expected to be warmer than about 80 degrees fahrenheit.
What to Do if Your Lotion Bar Melts
Now, if your lotion bar does melt, and it's in a lotion bar tin or another contained container like we mentioned above, fret not! Here's how to save your melted lotion bar:
If your lotion bar is still liquid, simply pop it in the fridge as soon as possible and it should harden nicely. However, if it has partially or fully solidified, you might notice it looks a little grainy. This is because the shea butter may not have mixed properly with the oils before solidifying. This shouldn't be a huge problem because everything will melt together when you rub it into your skin, but if you'd like to fix it, simply put it in the container you want it to solidify in and place it into a warm water bath so that no water will get inside the container. Once everything is melted, move it to the fridge to properly solidify.

And as always, if you have any questions at all feel free to reach out and we will be happy to help! You can email us at contact@zerraco.com or DM on Instagram @zerra.and.co.
xoxo,
Brittney Kiera
Content Curator - Zerra & Co.
---