How to Upcycle & Recycle Old Beauty Containers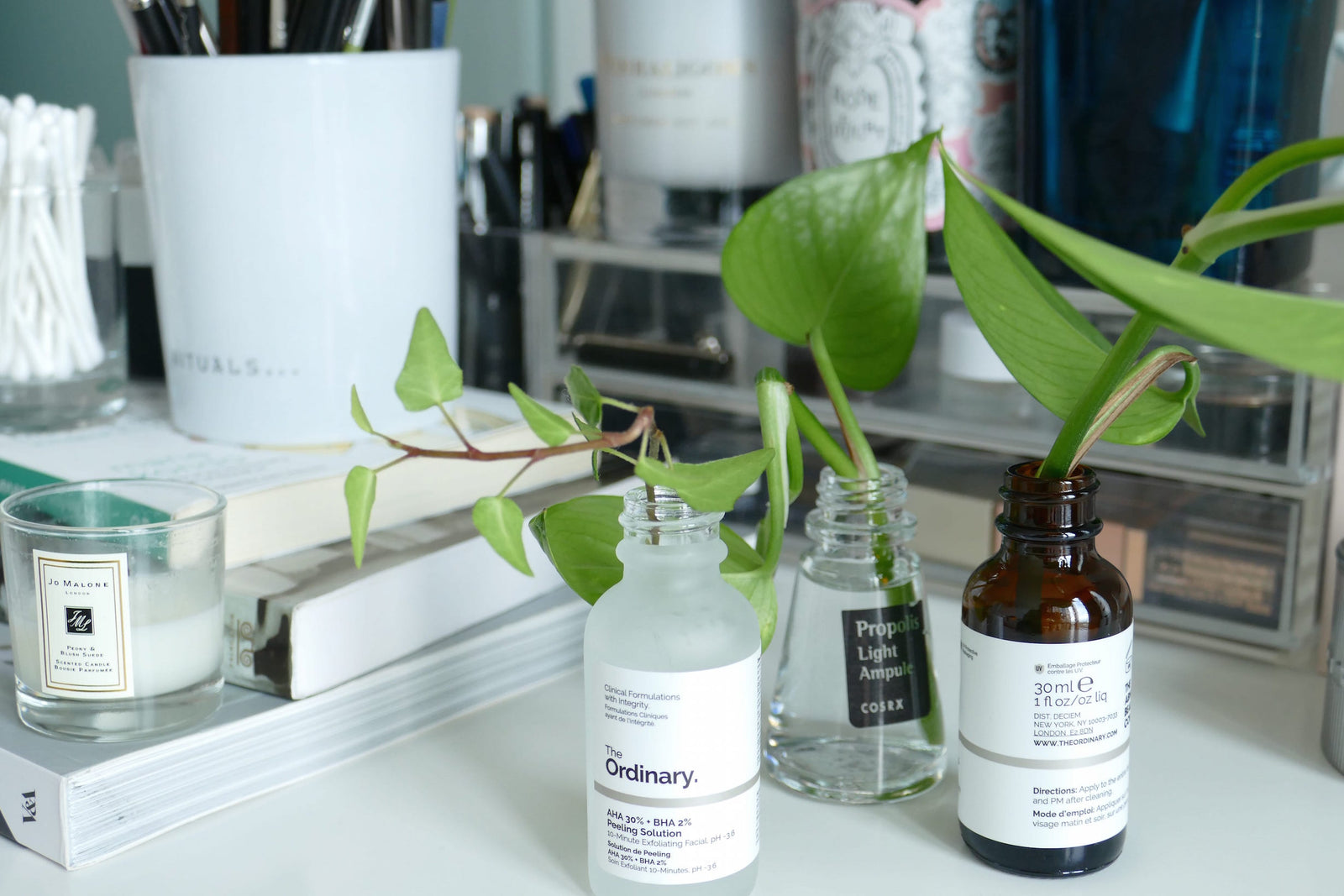 It's Plastic Free July and we're kicking off a month full of zero waste beauty tips with the number one question we get asked, "Do you know where I can recycle my old beauty products?". The answer is: it's complicated. To make this guide easy to reference, we've separated it into two main sections: Upcycling & Recycling. Upcycling is full of easy DIY's and inspiration while Recycling is all about finding your packaging a new home. We'll be updating this guide as we find more ways to upcycle & recycle beauty products, so be sure to save it for later!
While makeup products are harder to find refills for, many bulk shops do sell skincare and body care products in bulk. If at all possible, refill your containers rather than replace them with pretty glass ones. Zero waste isn't always picture perfect, and that's okay!
Upcycling
Makeup Packaging
Makeup packaging, with all of it's small plastic pieces, is usually impossible for curbside programs to recycle. But these little pieces can still have some use before we recycle them. 
Switching to a zero waste mascara like our glass vial Mascara? Reuse your old mascara wand! This not only helps save waste, but silicone molded mascara wands are usually easier to use and give a better application than the ones included with zero waste mascaras. 
You can also sometimes reuse old eyeliner applicators the same way, just be sure to check if they're felt tip or if they have bristles. Felt tip applicators can't be fully rinsed clean, so we recommend you recycle these to avoid spreading bacteria.
Have an old compact that you're ready to recycle? Most pressed powders come in standard sizes, so if you're looking to switch to a refillable compact, just measure your old compact to see if you can refill it instead! If a company sells refills they'll probably be designed to fit into a magnetic compact, but that doesn't mean you can't use them if your compact isn't magnetic. Just pop out the old metal tin, (these are usually either aluminum or tin, both of which are usually curbside recyclable!) then grab yourself a magnetic dot with an adhesive side from your local craft store - keep in mind the thinner the better! Then just stick your magnetic dot in the middle of your compact, and you can refill it again and again. 
If you clean out an empty lipstick or lip balm tube, it's the perfect size to store bobby pins or even sewing needles and other small notions! 
Skincare Packaging
We love the way serum bottles have been reused as sprouting jars in the photo above! Skincare jars and bottles are really easy to reuse around the house. Jars are great for storing and organizing things after a quick cleaning. We love using these for storing bobby pins and hair ties in bags, organizing craft supplies, or even back in the bathroom to organize jewelry or anything else prone to getting lost!
These are also great at reusing for other skincare products. Need to take some Aloe Gel to your next beach vacay? Skincare jars are water tight and usually the perfect size. And why stop at skincare products? Refill your pump top bottles with anything from lotion to hand soap to dish soap or laundry detergent! Skincare spray bottles can be refilled with all-purpose spray, laundry stain spray or another household cleaner.
You can also, of course, fill these with DIY recipes. Have a wide, low shallow jar? Fill it with DIY dry shampoo and use a large powder brush to apply to your roots, easy as 1-2-3! 
Glass or plastic skincare bottles can be reused in a variety of ways. Peel off the label from a glass jar and use to hold essential oil reed diffusers! These are super easy to DIY with any liquid carrier oil (like coconut oil) and a few drops of your favorite essential oil!
Have dry hair? Make DIY hair oil and upcycle a dropper bottle. Want a hydrating facial mist? Make DIY rose or lavender water and reuse a small spray bottle. We recommend you dry and store your empty skincare bottles for whatever DIY projects spark your interest - keep a couple of sizes of dropper bottles, spray bottles, and pump top bottles handy for any variety of uses!
Deodorant tubes
Our favorite way to reuse old deodorant tubes is to refill them with DIY deodorant. DIY deodorant is super easy to make, and you can reuse your old deodorant tube for it too! When shopping for DIY recipes, keep an eye out for ones that include Shea Butter and Magnesium Hydroxide as these will be the easiest on your skin, but still super effective. Start by emptying your tube of any remaining deodorant by twisting the tube all the way up, and using a spatula or blunt knife to scrape off any remaining bits. Then twist the tube all the way down, melt your DIY deodorant, and then pour!
Recycling
The first place we recommend you look when trying to recycle beauty products is for any recycling markings on the packaging. Look for the recycling numbers 1 & 2, these are usually curbside recyclable. Most bottles, such as shampoo bottles or plastic skincare bottles, will use plastic caps made out of a different material that aren't easy to recycle. We recommend you separate the caps from the bottles so you can recycle the bottles curbside. You can recycle the caps via another option below.
Next, we recommend you check if the company who made the product has a recycling program. Many larger cosmetics and skincare companies are now starting to take their containers back to recycle, and as the manufacturers they're in the best position to make sure they're recycled properly. For instance, Tom's of Maine will take back any empty deodorant tubes. 
Does the company who made the product not have a recycling program? This is where we recommend Nordstrom's BEAUTYCYCLE, which is powered by Terracycle. BEAUTYCYCLE accepts a long list of various beauty products including makeup containers, shampoo bottles, skincare packaging, and so much more! They have drop offs bins at all of their Beauty departments.
Don't want to drop them off in person? Then you can ship them directly to TerraCycle via their Garnier sponsored Beauty Recycling Program. This is also a free program, but you have to collect a large amount of beauty containers before TerraCycle will take them. This is to keep carbon emissions low, which is why we recommend you drop off your empties at a Nordstrom if at all possible. 
Zerra & Co. Product Packaging End-of-Life
All of our packaging is created with sustainability in mind. Our containers are either 100% biodegradable/compostable, refillable, or eligible for our container return program (see below). Any plastic we use is kept to an absolute minimum.
Of course, the ultimate goal is to be 100% plastic free, but for now we do use some plastic components in certain packaging, such as 
The Mascara
 reducers and the lining in some lids. We strive to help reduce single-use plastic and only use what we feel can be reused over and over.
Zerra & Co. Container Return Program
One of our personal favorite aspects of the business is our container return program. We work hard to make sure none of our containers end up in landfill, so we opened up the container return program to close the loop.
You can return any of our glass or metal containers in good, working condition with the lids in exchange for store credit.
So save up those containers, box them up, and send them our way! Head over to our 
Container Return Program
 page to learn how to send your containers back.
XOXO

The Zerra Team
---