How We Sustainably Package All Our Cosmetics at Zerra & Co.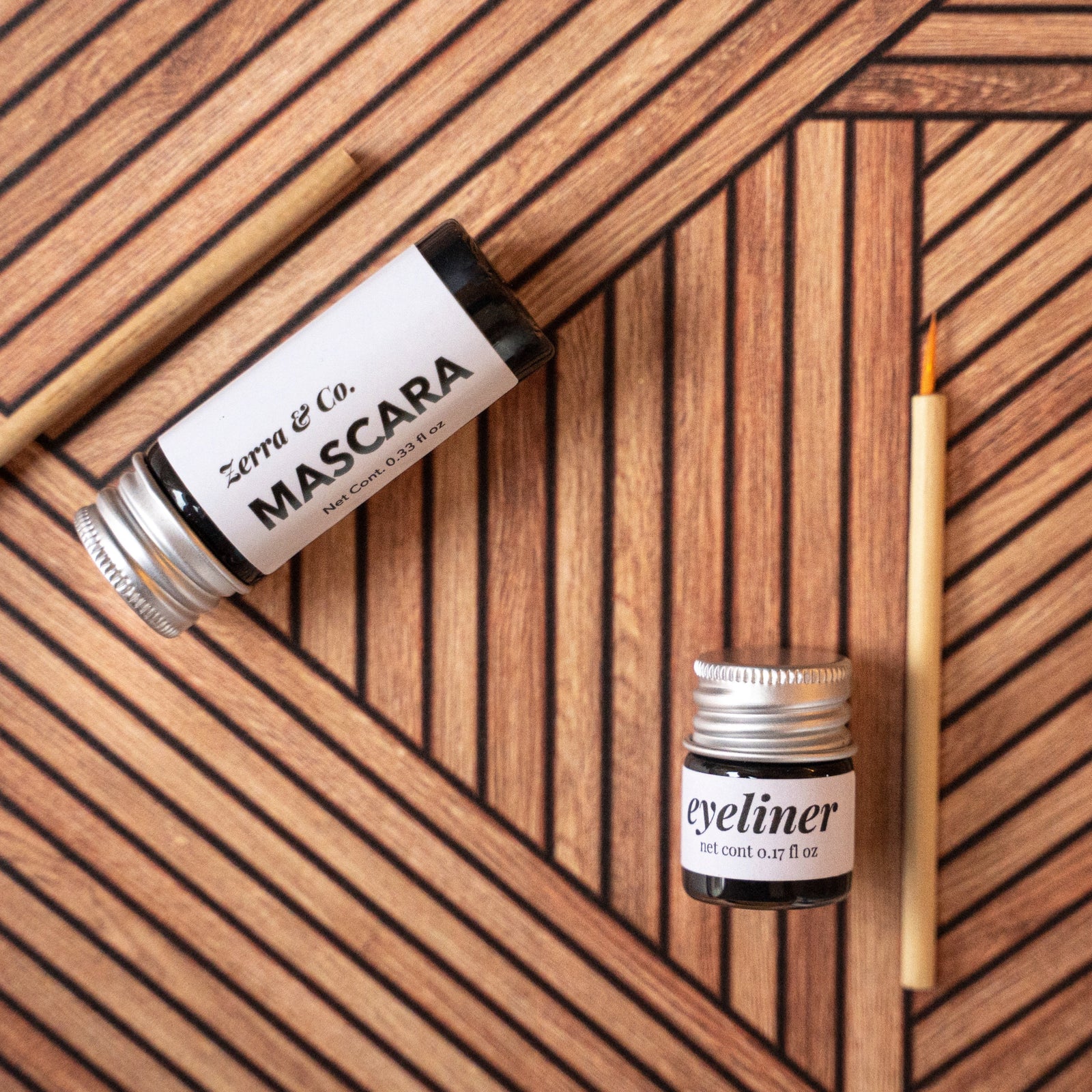 Packaging is kind of a big deal at Zerra & Co.
Our mission is all about finding the intersection between sustainability and accessibility, so we want to make sure we get the best cosmetics in your hands with the least impact on the environment as possible.
For example, our best selling product - The Zero Waste Mascara - has prevented over 5,600 mascara tubes from entering the landfill since its launch in 2018 (as of 12/31/21). This equals about 176 lbs. of trash - we'd say that's a pretty big deal indeed!
While being 100% plastic-free is the ultimate goal, there are some small plastic components in certain products' packaging that are necessary to the usability of those products. And we want to be completely up front and transparent about any and all packaging you receive when you shop with us.
Still, we want all our customers to know we strive to help reduce single-use plastic and only incorporate what we feel can be reused over and over if no other alternatives exist.
That's why we put together this quick guide to all packaging at Zerra & Co. so you know exactly what you're getting every time you place an order with us, and you can rest assured there won't be any plastic surprises when you open the box!
Product Packaging
We know the wellbeing of the planet matters just as much to you as it does to us, and we're willing to bet avoiding plastic as much as possible is a big part of your shopping qualifications. It's important to us too!
That's why all of our packaging is either biodegradable/compostable, refillable, and/or eligible for our container return program, with the least amount of plastics possible.
For example, the wands/reducers in our low waste mascara, The Mascara, are made from plastic. However, the container is glass and the lid is made from bamboo. We are also working on making refills available so you can reuse the wand. There is also plastic in the lining of some lids.
Aside from that, we are proud to report that the most used product packaging materials are glass, aluminum, paperboard and bamboo.
And if you are looking for a plastic free alternative to The Mascara, we offer that too! You can opt for our Zero Waste Mascara instead.
Container Return Program
Low waste packaging is pretty great, but we also sweeten the deal when you buy from Zerra & Co. with our container return program.
When you use our container return program, you'll receive $1 worth of store credit for every container you return so you can turn around and put it back towards your favorite products and we can reuse those containers again and again.
Did you know that in 2017 the EPA reported that only 27% of discarded glass and just 9% of plastic was actually recycled? Big yikes. So send your glass and metal containers back to us instead and help keep them out of landfill, plus get a nice little bonus in return!
You can return any of your glass or metal containers from Zerra & Co. in good, working condition with the lids. Once we receive your containers, we make sure everything is in working condition, then thoroughly clean and reuse them. Yay for closing the loop!
See how to return your containers and get your store credit here: Container Return Program.
Shipping
We didn't stop at zero and low waste packaging options, either. Nothing is worse than ordering a low waste product and then seeing it arrive covered in plastic or unsustainable shipping supplies.
That will never happen when you order from Zerra & Co.!
Our shipping materials are entirely paper based, making them 100% recyclable and compostable including the tape (although recycling is preferred to prevent deforestation), and are made from 100% recycled materials. This helps us close the loop on our shipping materials, and keeps us and our wonderfully sustainable customers happy!
But what about those cute, compostable mailers you've seen making the rounds in the land of mailboxes?
We intentionally don't ship with compostable mailers because, quite honestly, we feel they aren't truly sustainable. Here's the 411: they're made with PBAT, which is a petroleum derivative. This totally goes against our plastic and petroleum-free mission, and that's why we use recycled paper mailers instead. Compostable mailers have also been shown to have a higher overall carbon footprint. No thanks!
______________
We hope that answers all your questions about our low waste packaging practices, but if not, feel free to reach out to us anytime at contact@zerraco.com and don't forget to keep up with us on our instagram @zerra.and.co!
xoxo,
Brittney Kiera
Content Curator - Zerra & Co.
---