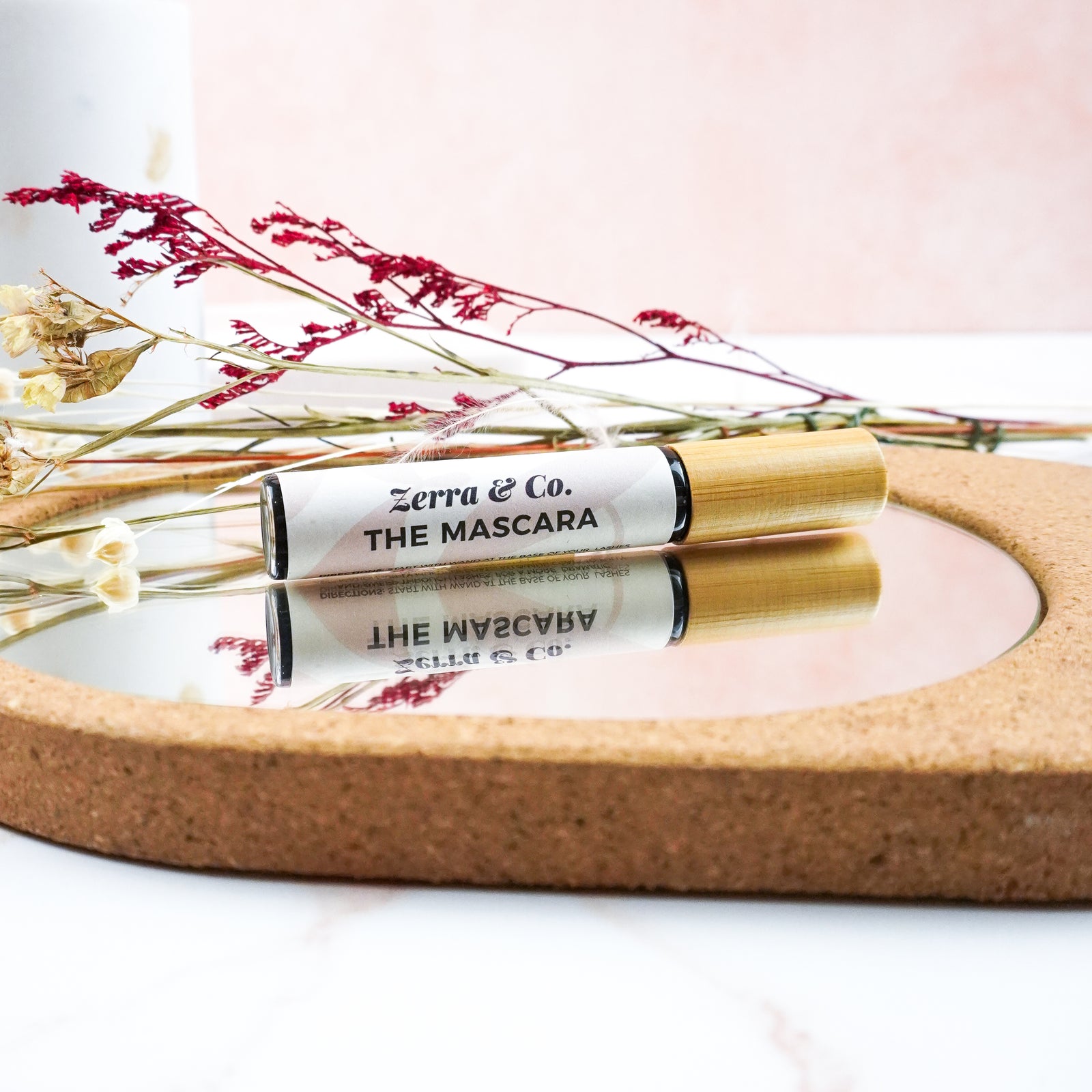 Meet the newest addition to the Zerra Family - The Mascara. A low-waste mascara, perfect for anyone transitioning to a natural beauty routine with less waste. It's also great for anyone who has struggled with the learning curve that comes with our Zero Waste Mascara. The Mascara is built like conventional drug store mascaras we're all familiar with but with some eco-friendly tweaks - a glass body and bamboo lid. 
"This product has plastic in it! Isn't that a step backwards?"
Our Zero Waste Mascara is great for zero wasters and people who are ready to put in the time and effort to learn how to use it. There are a lot of people just getting into low and zero waste products who may be intimidated and unsure if our Zero Waste Mascara is a good fit for them. Others have struggled with getting the hang of application. The Zero Waste Mascara also requires a good bit of dexterity, which makes it inaccessible to users who have physical disabilities. We created The Mascara to help fix all of these issues. Our goal is to provide a more accessible and inclusive product that's easy to use so that people who are stuck with plastic-filled drug store mascara can easily turn to this cleaner, lower waste option. 
Here are some FAQs about The Mascara
Q: Is is plastic free?
A: The formula is and always will be plastic free. The Mascara's new packaging does have plastic components, but it contains ~85% less plastic by weight than conventional mascara tubes. If you're looking for a plastic-free option, check out the Zero Waste Mascara
Q: Is this replacing your zero waste mascara?
A: No, this isn't a replacement, just a new addition to our collection. We'll still be offering both options!
Q: Is this the same formula as the old mascara?
A: Yes! It's the same customer favorite formula as our original Zero Waste Mascara
Q: What options are there for the empty tube after it's used up?
A: We will be launching refills in the next few months so that you can reuse the bamboo cap + wand over and over in a new glass vial. You can also send the glass vials back to us through our Container Return Program
Q: What is the shelf life?
A: Our mascaras are good for 12 months from opening or 16 month from purchase, whichever comes first
Q: When will I be able to order?
A: Pre-orders open Sept. 4th and will begin shipping Sept. 11 - you can sign up for email notifications when The Mascara launches here!
Have other questions about The Mascara? Feel free to email us anytime at contact@zerraco.com!
XOXO
Caroline Aro
Co-Owner & Operations Manager - Zerra & Co.
---