Customer Reviews
04/11/2021
Valeria

United States
Not what I expected
I thought this was going to be an actual liquid, toner-like consistency but in reality it was similar to conventional lotion, creamy and white. I bought it to use on my face as a daily moisturizer and has been working very well; doesn't leave a greasy feeling and only has a faint shea butter scent. BF likes to use it too! It also works as a light body lotion.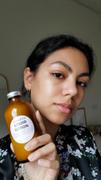 Good product that doesn't smell good
I really do like the feel, absorbency and hydration of this lotion. However, I can't give it five stars because it smells of alcohol and that is very unappealing.
Personal Touch
We craft our low waste cosmetics by hand in Baltimore, MD. Each product is thoughtfully made by people who care just as much about the environment as you do.
Big Picture
We focus on all aspects of sustainability at Zerra & Co. Not only do we use clean and ethical ingredients, but we limit plastic packaging and have a container return program to make sure every container gets a second life. To finish it all off, we use 100% plastic free shipping materials and ship carbon neutral.