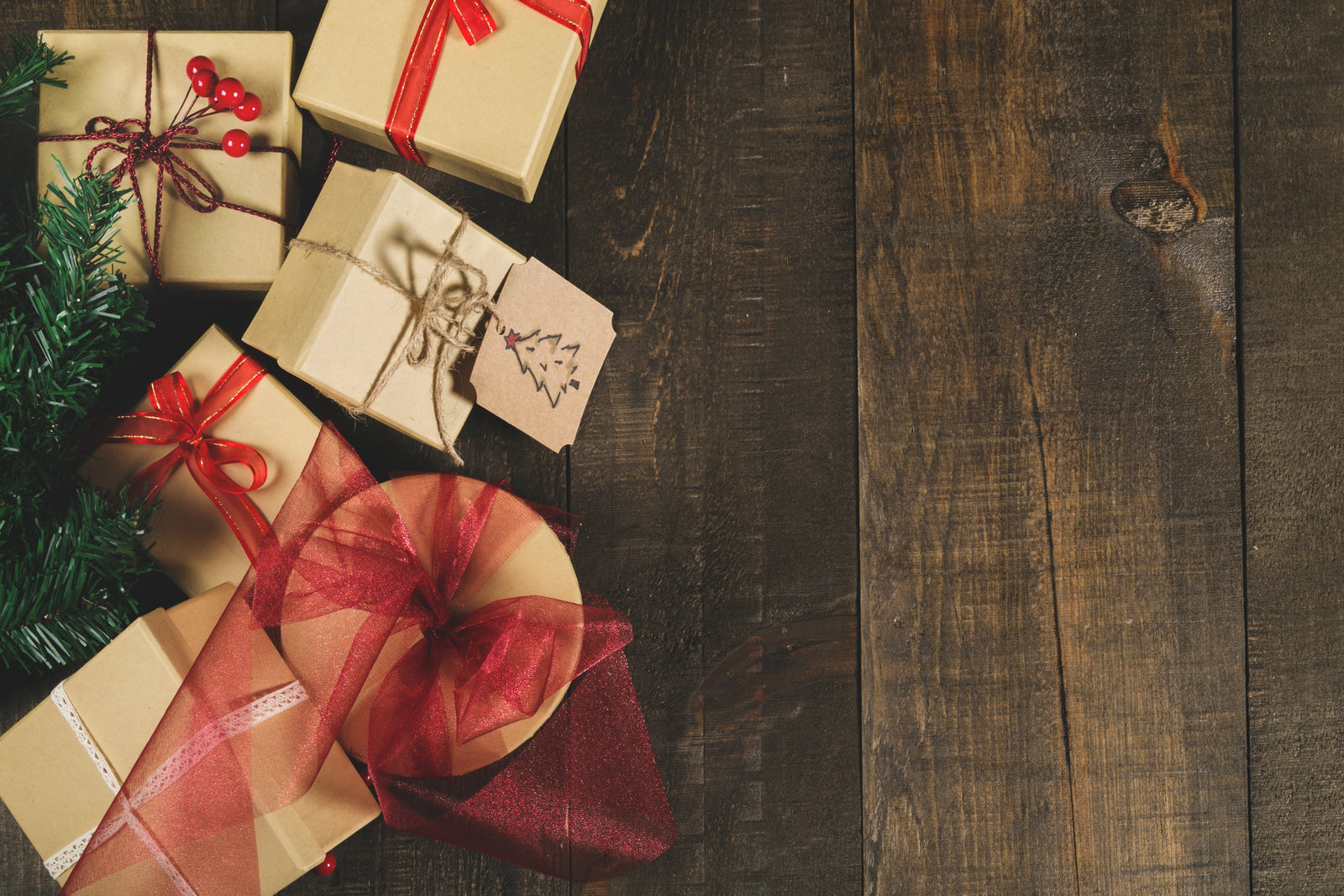 As you know, sustainability is kind of a big deal over here at Zerra & Co. From our packaging, to our shipping practices, to our handcrafted products, our aim is to build a brand that is kind to your skin, kind to the animals, and kind to the planet.
That being said, we also know how difficult it can be to maintain sustainable practices amidst the hustle and bustle of the holiday season. So many modern traditions like disposable wrapping paper, cheap stocking stuffers wrapped in plastic, and individually wrapped treats unfortunately also generate so much additional waste.
Cosmetics are also a popular selection when it comes to stocking stuffers, bottles of lotions, makeup kits, and so much more. This generates pounds upon pounds of plastic packaging that will eventually end up in landfill.
With that in mind, we want to make sustainable gifting as simple and attainable as possible for you this year (and every year hereafter) so you can make your list, check it twice, and return to holiday bliss without all the last minute shopping, wrapping, and stressing.
Here are 6 ways you can gift more sustainably.
Reuse Gift Bags and Gift Boxes
The easiest and most budget friendly way you can be more sustainable with your gifts is as simple as reusing gift bags and gift boxes you accumulate over the year. Not only will you save money on gift wrapping supplies, you'll also be avoiding contributing to landfill, deforestation, and the environmental impact that comes from producing gift bags and boxes.
Reuse packing supplies
At Zerra & Co., we often send out packages with compostable shredded packing paper, and you can save it to add to gift baskets or gift supplies instead of buying new or plastic gift basket shreds!
You can also hold on to any brown wrapping paper you might receive with your packages and use that for wrapping paper. I like to fold up all the brown packing paper or tissue paper I receive in packages throughout the year and then use them to wrap gifts, tied with a bit of ribbon or string. What could be better than brown paper packages tied up with string?
Choose Cloth or Reusable Wrapping
If you don't have any gift bags, boxes, or packing supplies on hand to wrap, go for reusable wrapping! For example, you can use cloth wrapping and fold it with a furoshiki method for wrapping that's beautiful and sustainable.
Seeing what you can find around the house or at a second hand shop is a great way to get creative and give your gift in a unique and thoughtful way. You can use scraps of fabric, second hand baskets, cloth napkins, or vintage handkerchiefs.
Purchase Gifts Consciously and Thoughtfully
Sometimes this seems easier said than done, especially for the ones in your circle who are a bit harder to shop for. But, if you prepare early, you can avoid all the impulse buys and last resort shopping that comes from last minute presents.
Take some time to write out ideas for each person you'll be shopping for early to avoid returns or lack of use. Whatever you decide to get, make sure it's something the person will enjoy and make use of instead of it ending up in a "junk" pile or in the trash.
We love the idea of using a second hand basket to put together a self care themed gift basket.
Here are some of our favorite sustainable products to include:
A luxurious lotion bar.
Skin smoothing Walnut Body Polish.
Our moisturizing and soothing Pink Rose Bath Salts.
The best selling Botanical Toner.
Quality over Quantity
A few good quality and purposeful items are often better, less wasteful and will serve the recipient better than a dozen cheap gifts. This comes with stocking stuffers too! A common trap to fall into during the holidays is to purchase a bunch of cheap, little things to "fill out" their gifts or stockings, but often these little gifts break, go unused, or simply don't work well
This is especially true when it comes to makeup and cosmetics!
Year after year, people are left with heaps of cheap beauty products that go unused because they don't work well, make skin worse, or are full of harmful ingredients. Instead, opt for a few high quality products that you're loved one will love every last drop of.
Here are some of our favorite makeup products that make great stocking stuffers:
The Neutrals Eyeshadow Palette
Choose Companies with Sustainable Shipping Practices
Sometimes when we are shopping for sustainable products, we forget about what those products will arrive in. Then we end up with surprise plastics wrapped all around our sustainable products! When you're buying online, opt to purchase from companies who ship plastic free and/or carbon neutral (we do that!). 
If you're not sure what a company's shipping practices are, check their about page, item description, or FAQs and if you can't find out how they ship, you can email the company and ask. You can read our shipping practices here.
When you're not shopping online, it's always a great idea to purchase in person from your local small businesses.
DIY Some Gifts
DIY-ing is also a great way to manage waste, especially for bulk gifts. There are endless things you could DIY that people will love, and they'll love it even more knowing you made it especially for them! Here are a few self care and beauty DIY ideas from Zerra & Co.:
Use some scrap fabric or an old pillowcase to sew a makeup bag. You can fill it with

sustainable and natural makeup goodies

from Zerra & Co. to complete the gift!

If you have candle making supplies on hand like beeswax and lead free wicks, you can make some homemade candles to light your loved ones self care baths.

Upcycle some spray bottles to make an

essential oil room spray.

Upcycle more little jars and fill them with loose leaf teas you can find from the bulk section at many health food grocery stores.

Knit or sew small, reusable makeup pads. You can tie them up in a stack with string, and pair with a bottle of our best selling

Makeup Remover

.

Upcycle a mason jar and fill it with the dry mixings for a cake, and write the recipe instructions on a pretty piece of scrap paper to gift a cake in a jar!

Propagate one of your plants to make a baby plant to gift. You can even pick up a pot second hand and paint a pretty design on it.
What ways are you gifting more sustainably this year? Remember that when it comes to living more sustainably, it's about progress, not perfection, and each small step that you take towards less waste and more intentional purchasing is a big step in the big picture.
xoxo,
Brittney Kiera
Content Curator - Zerra & Co.
---