Plastic Free Beauty Products for Every Sustainable Routine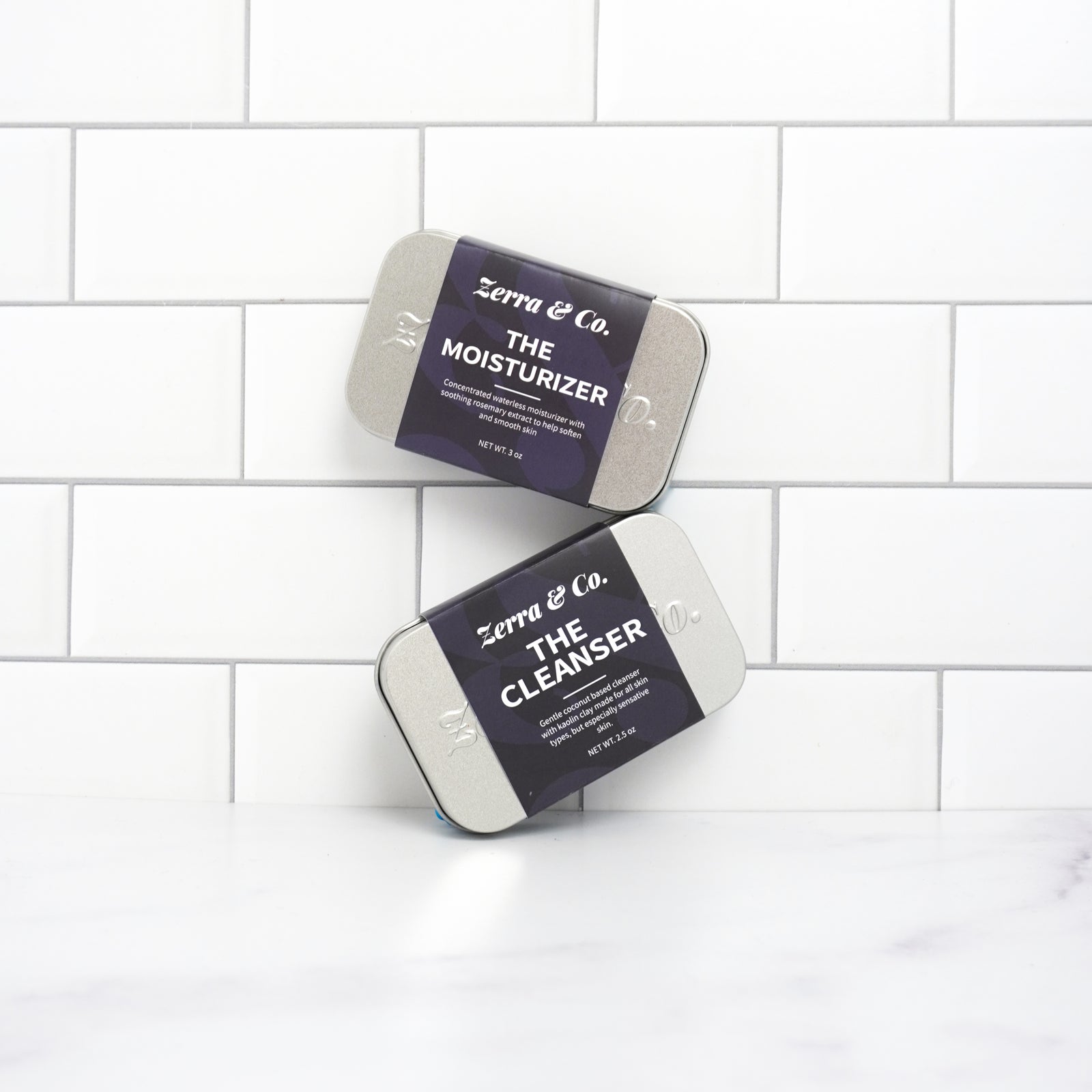 Going zero waste can start to feel a bit tricky once you work your way into the bathroom. It takes years to find out what products uniquely work for you and unfortunately, many of them likely come packaged in plastic to the max.
So if you're trying to create a plastic free home or just trying to buy more sustainable beauty products in general, where do you start?
The good news is, plastic free beauty is finally making a comeback as more and more consumers realize the need for a cleaner routine that doesn't contribute to landfill.
We've rounded up a few of our personal favorites for making the switch to plastic free and zero waste beauty products as seamless as possible.
Plastic Free Showers
Shampoo and Conditioner Bars
We love our fellow Baltimore locals, Mount Royal Soaps, for their variety of shampoo and conditioner bars that are individually formulated for different hair needs. They are plant based, sulfate free, palm free, and paraben free too! They come packaged in reusable tins or compostable bags when you're ready to refill.
Solid Bar Soap
Remember the good old days when all we needed was a tried and true bar of soap instead of bottles upon bottles of various shower gels? Let's bring those days back, maybe with just a tad more flair. We love Mount Royal Soaps' heavenly, handmade bar soaps just as much as their hair care.
We also have major heart eyes for Earth Elements Soapworks and their versatile yet luxurious bar soaps, such as their Tumeric Carrot with Honey Soap brightening facial and body bar.
Who knew bars of soap could be so fun?
Zero Waste Shaving
From a standard razor to dermaplaning to zero waste shaving soap, Leaf Shave has you covered. If you want to ditch the plastic razors but feel a bit intimidated by a safety razor, Leaf Razors make zero waste shaving as user friendly as possible. They're a bit of an upfront investment, but since refill blades go further and are way cheaper than replacing traditional shaver heads, you'll recoup the funds in no time.
Shower Steamers
No need to sacrifice self care for sustainability! Create your own at-home spa with shower steamers - Mount Royal Soaps (can you tell we're a big fan?) has shower steamers in a few different essential oil blends to set the mood you're looking for.
Bubble Bath
More of a bath lover? You can also find a variety of zero waste bubble bars to pick from at Mount Royal Soaps (like, we're seriously big fans).
Plastic Free Oral Care
Zero Waste Toothpaste Tablets
We personally love Bite Toothpaste Bits. They come in a refillable glass jar, are vegan and cruelty free, and the tablets aren't chalky like other brands we've tried. They also have a variety of choices to pick from!
Plastic Free Toothbrushes
If you're looking for a plastic free manual toothbrush, we also recommend Bite's Brush, which is made from bamboo. 
If you're partial to electric toothbrushes, check out SURI Sustainable Electric Toothbrush, which is made with an aluminum body and plant based heads made from cornstarch and castor oil bristles. 
Zero Waste Mouthwash 
Hailey (our founder!) highly recommends Humankind Mouthwash tablets, particularly because the added blue in them helps whiten teeth while you clean.
Zero Waste Teeth Whitening
Speaking of teeth whitening, ditch the wasteful whitening strips and give Bite's Whitening Gel a try. It's made with cleaner ingredients and is 100% plastic free!
Plastic Free Skincare
When it comes to zero waste skincare, we've got that on lock.
Zero Waste Makeup Remover
Ever heard of a makeup remover in bar form? The Eraser is our cleansing balm in bar form, and it's basically a miracle worker. It comes in a reusable metal tin.
If you're looking for a more traditional makeup remover, we also have a liquid Makeup Remover that comes in a glass bottle with a metal cap.
Zero Waste Face Wash
The Cleanser is our plastic free, facial cleansing bar. It's a gentle coconut based cleanser made with soothing and clarifying kaolin clay, which makes it great for all skin types, but especially sensitive skin.
Plastic Free Face Moisturizer
The problem with using lotion bars for facial skin is that they tend to be heavy and oily. This is not the case with The Moisturizer, our concentrated waterless moisturizer. Our carefully selected ingredients make this bar of face lotion particularly special: Macadamia Nut Oil, Evening Primrose Oil, and Mango Oil give superior hydration without leaving a heavy or greasy feeling. And Sorbitol moisturizes and soothes, while Rosemary Extract softens and smooths skin.
We might be a little biased, but we're pretty sure this is the best bar of face lotion, like, ever. 
Zero Waste Face Exfoliator
Did you know common DIY exfoliators like sugar are actually harsh on your sensitive facial skin and can cause more harm than good? The Exfoliator is your gentle exfoliator made with sensitive facial skin in mind packed neatly into bar form. It's made with biodegradable jojoba & castor beads instead of plastic microbeads, and gently exfoliates away dead skin without irritation.
Zero Waste Body Lotion
Our ultra moisturizing Lotion Bars are a customer favorite. They come wrapped in compostable paper and are made with a vegan Candelilla wax base. You can also pick up a refillable Lotion Bar Tin for travel-friendly storage.
If you prefer a liquid lotion or are looking for something a little lighter, but still want to be 100% plastic free, you can always order a Refill of our Liquid Lotion, which doesn't include a plastic pump top and has a metal cap instead.
Zero Waste Makeup
We've got your eco-friendly makeup routine covered too: create your capsule makeup collection with these plastic free makeup essentials.
Plastic Free Mascara
The Mascara - Zero Waste Packaging is our OG zero waste mascara, with a glass tube, metal cap, and bamboo mascara wand.
Plastic Free Eyeliner
Our zero waste Eyeliner comes in the cutest little glass pot with a metal lid and bamboo brush. We currently have 4 timeless shades to choose from.
Plastic Free Foundation
This light coverage, 100% Mineral Foundation is made with only 6 all natural ingredients, and comes in a variety of shades to find your perfect fit. Plus it's packaged in a 100% plastic free, paper container!
Plastic Free Eyeshadow
Plastic eyeshadow palettes create a ton of waste, from the packaging to the plethora of shades we never really loved. Pick only the shades you want and ditch the plastic palettes with our Loose Mineral Eyeshadow pots. They come in glass pots with bamboo lids, and they're freaking adorable to boot.
xoxo,
Brittney Kiera
Content Curator - Zerra & Co.
---