Your Eco-Friendly and Zero Waste Gift Guide for the Holidays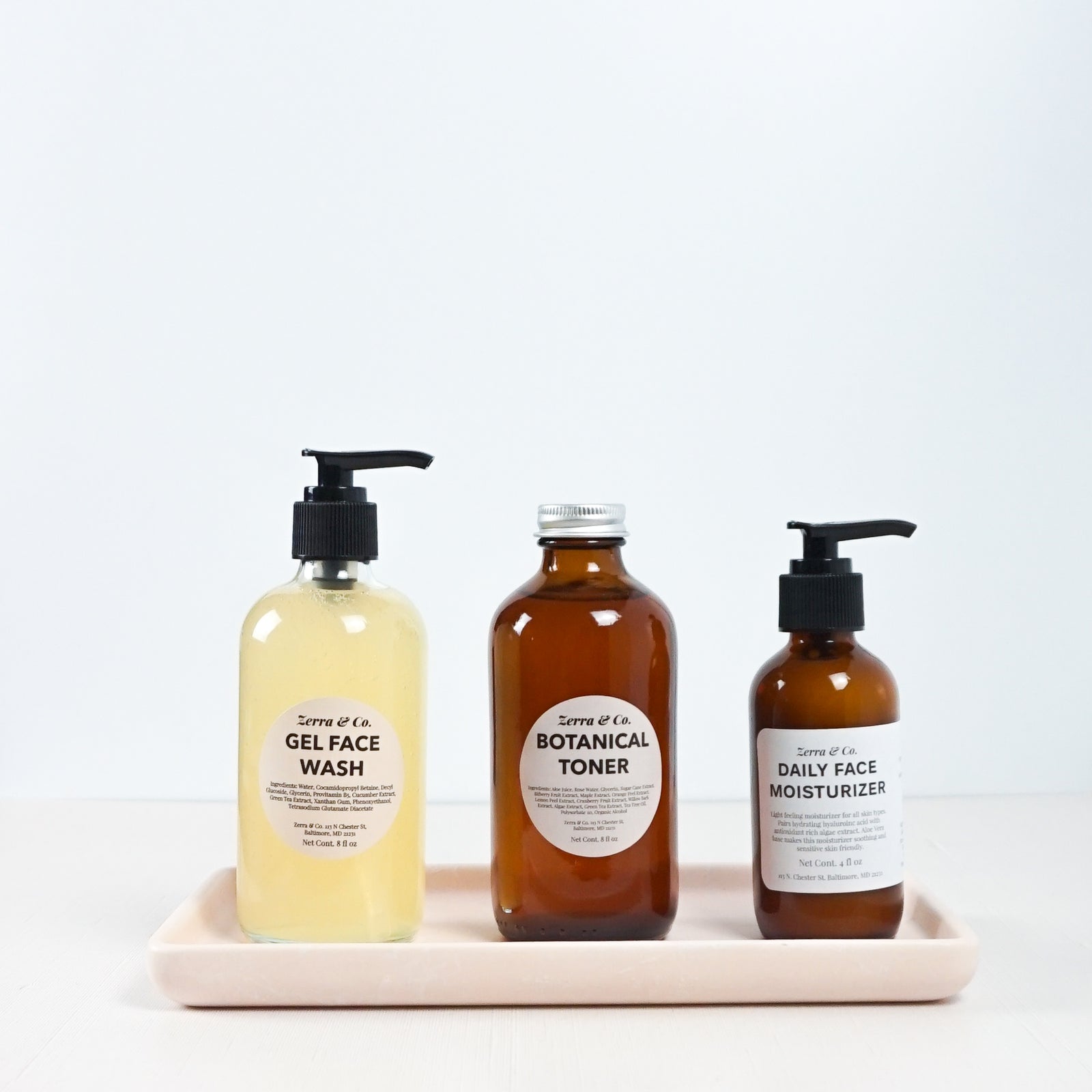 This year, we're here to spread holiday cheer without spreading holiday waste.
This we know to be true: you can remain The Eco-Friendly Friend during the holidays without becoming the Scrooge of the holidays. In fact, we are here to help you completely own the holidays with our roundup of sustainable and zero waste gifts all your friends and family will absolutely adore.
We've put together our favorite eco-friendly stocking stuffers along with zero waste and sustainable makeup and skincare options that are top quality without breaking the bank - peace of mind for not hitting up the impulse-buy-bins included. Oh, and everything is vegan and cruelty free too!
Yep, we pretty much covered all the bases here.
Sustainable Stocking Stuffers
The thing about stocking stuffers is that you usually end up with a bunch of cheap knick knacks you never really reach again once they find their way into the junk drawer.
Well, not this year! Here's a selection of zero waste stocking stuffers your friends and family will fall in love with.
The Balm
: Zero Waste Lip Balm
The Balm is our vegan lip balm with ultra-moisturizing ingredients like avocado oil, cocoa butter, and vitamin E oil. It's completely plastic free and comes in a recyclable push-up paperboard tube. It's available in Plain or refreshing Mint if you want to be really festive.
Everyone's December lips will thank you.
If you want to give a "pop of color" kind of stocking stuffer, go for the Tinted Lip Balms. The Tinted Lip Balm is the colorful cousin of The Balm; just as moisturizing but likes to be extra. You can choose from Shimmery Gold Dust, pale Antique Pink, deep Sugar Plum and a pigmented matte Poppy Fields. Or get the full collection with the Variety Pack!
Dry skin is an unwelcome guest that always comes to visit over the holidays. Help your friends and family keep it away with our luxurious Lotion Bars! It's made with a vegan candelilla wax base and packed with other skin-loving ingredients like Olive Oil, Shea Butter, and Coconut Oil. We have four options available - Unscented, Cedar Eucalyptus, Orange Bergamot, and Lavender Ylang Ylang.
Lotion Bars are plastic free and  come wrapped in 100% compostable paper packaging. Or pair it with one of our Lotion Bar Tins for storage that's perfect for on-the-go.
Not sure what your giftee is searching for in their stocking this year? Let them pick from all our eco-friendly makeup and skincare options with a Zerra & Co. gift card! No plastic here - our gift cards are all digital and zero waste.
Eco-Friendly Makeup Gifts
Find sustainable makeup gifts for the minimal makeup friends and the makeup gurus alike. 
The Classic Makeup Gift
If you're looking for a minimal gift that's oh-so-chic, try pairing The Mascara with The Eyeliner.
The Mascara packaging works just like the traditional mascaras we all know and love, without so much waste. It comes in a glass vial and a bamboo lid and contains 85% less plastic by weight than conventional mascaras. Plus you can reuse your wand endlessly and order refills!
If you're looking for a completely zero waste option, opt for our plastic free version: The Mascara - Zero Waste Packaging. This zero waste mascara comes in a glass vial with a metal lid and a separate bamboo spoolie.
The Eyeliner, our vegan gel eyeliner, is packaged in a small glass pot with a metal lid and is sold with a bamboo brush. Choose from four gorgeous shades: Black, Shimmer Brown, Matte Brown, or Ivy Green.
The Fun Makeup Gift
On the hunt for a gift that's fun and full of color? Pair one of our Pressed Mineral Blushes with The Gloss in your loved one's go-to color.
Our zero waste Pressed Mineral Blush comes in a refillable bamboo compact with a glass mirror. Choose from five stunning shades!
The Gloss is our low waste alternative to plastic lip gloss tubes. It comes in a glass tube with a bamboo cap and minimal plastic - about 85% less plastic than conventional lip gloss by weight. And it's eligible for our Container Return Program! There are six gorgeous shades available.
The Makeup Gift That's Perfect for Everyone
Still looking for the perfect all-around makeup gift? You simply can't go wrong with the zero waste Neutrals Palette. Not only is this collection of shimmery neutrals the perfect everyday palette, it's also completely plastic free and refillable! No more buying a whole new palette just because you ran out of your favorite shade - just order a refill of that shade and replace the empty tin!
Not sure if your giftee would love those colors? Pick a few of our Loose Mineral Eyeshadows and create your own, personalized collection for them! These adorable single eyeshadows come in glass pots with bamboo lids. There are six shades to pick from, with matte and shimmer options.
Eco-Friendly Skincare Gifts
Show your friends they don't have to sacrifice their skincare routine for sustainability! We have options for every skin type, so you can find their perfect fit.
For The Skincare Junkie
If you're looking for a gift for the friend who's gotta have it all when it comes to skincare, look no further than The Routine. The Routine is a skincare routine formulated for all skin types, but with sensitive skin in mind. It contains our Gel Face Wash for a cleanser, the Botanical Toner, and the Daily Face Moisturizer to round it all out in a routine that's simple but effective!
All three items come in glass bottles, and the plastic pumps that come with the Gel Face Wash and the Daily Face Moisturizer are reusable - simply order refills and they will come with metal lids. You can reuse the pump top and send the empty containers back with the lids through our Container Return Program.
For the Self-Care Bestie
Put together a dream self-care kit with one of our zero waste face masks along with a Walnut Body Polish. These products are sustainably packaged in glass containers with metal lids that can be repurposed or returned through our Container Return Program.
Our Green Tea Radiance Mask is especially great for dry skin, which makes it a perfect gift for the cold season. It's made with a Papaya and Pineapple base to gently exfoliate and remove dry, dead skin cells. It also includes antioxidant rich Aloe and Green Tea Extract to even skin tone and moisturize.
The Activated Charcoal Mask is great for acne prone skin or for anyone looking for a deep clean. The Activated Charcoal helps remove bacteria, dirt, and build-up on the skin. Allantoin can help to reduce visible inflammation and acne, and Oatmeal helps to soothe irritated or sensitive skin.
Walnut Body Polish is a fantastic body exfoliator even for the most sensitive of skin. ​​Walnut powder is much gentler than sugar scrub, super effective at smoothing skin, and is entirely biodegradable. We paired in Almond Oil and D-Panthenol to help deeply moisturize, so our scrub won't leave you feeling dried out. To finish it off we added Green Tea Extract to help soothe skin as you exfoliate.
The Skincare Gift for Everyone
Luxury meets simplicity in gift form when it comes to our Liquid Lotion. Our vegan formula is packed with soothing extracts such as Oatmeal, Cucumber and Allantoin to help soothe cracked or damaged skin. Paired with the moisturizing power of Shea Butter and Almond Oil, this lotion is so moisturizing without feeling heavy or oily. We have two heavenly scents and an unscented option available.
The Liquid Lotion comes in a glass bottle and refills with just a metal cap are available so you can reuse your pump!
__________


Have any questions about any of our products? Feel free to reach out to us at contact@zerraco.com and we will happily help you out!
xoxo,
Brittney Kiera
Content Curator - Zerra & Co.
---