An Intro to Zerra & Co.: Your New Favorite Low Waste Cosmetics Brand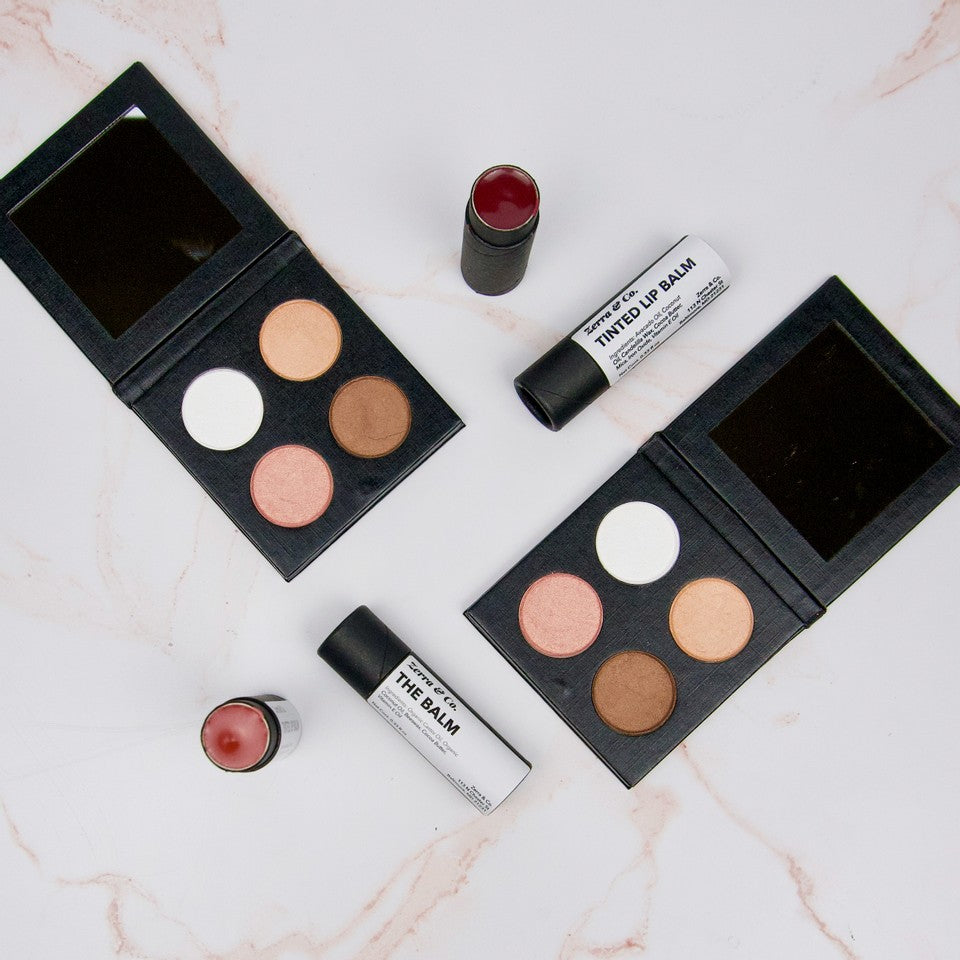 If you've been looking high and low for a cosmetics company that offers you low waste, zero waste, vegan and non-toxic products that won't leave your wallet with an echo, this is the place.
At Zerra & Co., our brand's mission is to increase consumer adoption of zero waste products by offering affordable products that work like the conventional ones you know and love.
We are working hard behind the scenes to expand our reach and find where the roads meet between sustainability and affordable, user friendly products that will invite more people into the low waste movement.
If that sounds like your jam, welcome to the Zerra & Co. family! Let's get you up to speed with an in depth guide on everything you need to know around here.
How We Started
Zerra & Co. was founded by Hailey Graef in Baltimore, Maryland. When she first became interested in the low waste lifestyle, she soon realized just how much of a struggle it can be to find zero waste cosmetics that easily replace the mainstream products we are used to.
That's when she decided to fill that gap and create a line of truly safe, natural, and low waste cosmetics that are easy to use and actually work.
Today, our best selling product - The Zero Waste Mascara - has kept over 5,600 mascara tubes out of landfill since launching in 2018. That's equal to about 176 pounds of trash, and that's just from mascara!
As we continue to grow, learn, and expand, we keep sustainability and useability at the forefront of our brand and do our best to get low and zero waste options into more hands around the world.
Products
At Zerra & Co., we keep it simple, sustainable, and cruelty free.
When we formulate our products, we want to make sure of two things in particular: that our products work with intention without the use of pointless fillers, and that they are kind: kind to the planet, kind to your skin, and kind to animals.
We skip frilly and gimmicky ingredients and instead make products with simple, quality ingredients that work.
While words like "natural", "eco-friendly" and "green" have become super hot buzzwords in the cosmetics industry, many companies simply aren't living up to those promises. The truth is, putting "natural" on a label is a pretty vague claim, and isn't actually regulated to specific standards by the FDA, or anyone for that matter. Because of that, even just a small amount of natural ingredients can give companies full rein to put "natural" front and center on their labels.
Additionally, most mainstream cosmetics are made with toxic chemicals that make their way into our environment when we do everyday things like washing our faces, taking showers, or going swimming in the ocean. Not to mention the harm done in manufacturing.
All while promising you green and natural products.
At Zerra & Co., we pride ourselves on living up to those promises. We only use non-toxic ingredients we truly believe in. That's why we aren't afraid of being fully transparent about all of our ingredients, and we make them easy to find and understand on our website and on our packaging.
You won't find any parabens, silicones, synthetic fragrances, coal-tar pigments, or any petroleum based ingredients in our cosmetics. We think you should know what's going on your skin, and we strive to make it as easy as possible for you.
To top it off, all of our products are cruelty free and we only purchase ingredients from cruelty free suppliers.
Pricing
Part of our mission is making zero and low waste available and appealing to everyone.
While we aren't drug store budget, we aren't priced at a luxury price point either. We charge what we need to pay a living wage and purchase ethical/sustainable materials, but not line our pockets.
We skip frilly and gimmicky ingredients and instead make products with simple, quality ingredients that work. Many frilly ingredients are just smart marketing and are often included at very low percentages (<5%), or they're put in rinse off products and end up down the drain rather than adding to the quality of the product at all.
We also keep our packaging simple to keep prices low. No custom glass bottles or jars, just standard containers made out of recyclable/reusable materials.
Sustainability
Packaging
All of our packaging is created with sustainability in mind. Our containers are either 100% biodegradable/compostable, refillable, or eligible for our container return program (see below). Any plastic we use is kept to an absolute minimum.
Of course, the ultimate goal is to be 100% plastic free, but for now we do use some plastic components in certain packaging, such as The Mascara reducers and the lining in some lids. We strive to help reduce single-use plastic and only use what we feel can be reused over and over.
Our labels are completely biodegradable and plastic free, too!
Shipping and Carbon Footprint
We know running any business will come with some sort of impact on the environment, especially online businesses that are shipping out products across the world. We don't want to overlook that impact, that's why we offset the carbon footprint of all packages shipped from our online store. 
When it comes to shipping materials, we keep it as sustainable as possible. Our mailers are entirely paper based, and any shipping materials we use are 100% compostable and recyclable. Yep, even the tape is compostable!
You can also buy directly from our ever-growing list of retailers near you to skip the shipping entirely.
Container Return Program
One of our personal favorite aspects of the business is our container return program. We work hard to make sure none of our containers end up in landfill, so we opened up the container return program to close the loop.
You can return any of our glass or metal containers in good, working condition with the lids in exchange for store credit.
Each container is worth $1 of store credit, and we encourage customers to send in multiple containers at once to really take advantage of the program. That way, you'll receive more store credit plus help reduce emissions that would come from shipping multiple boxes over time.
So save up those containers, box them up, and send them our way to receive a gift card for the shop!
Head over to our Container Return Program page to learn how to send your containers back.
____________________
Like what you've heard so far? We thought you might. 
Head over to our shop page to check out all our amazing low and zero waste products; we're pretty sure you'll love them as much as we do. 
xoxo,
Brittney Kiera
Content Curator - Zerra & Co.
---