Fall Makeup Looks the Eco-Friendly Way: Zero & Low Waste Makeup for Fall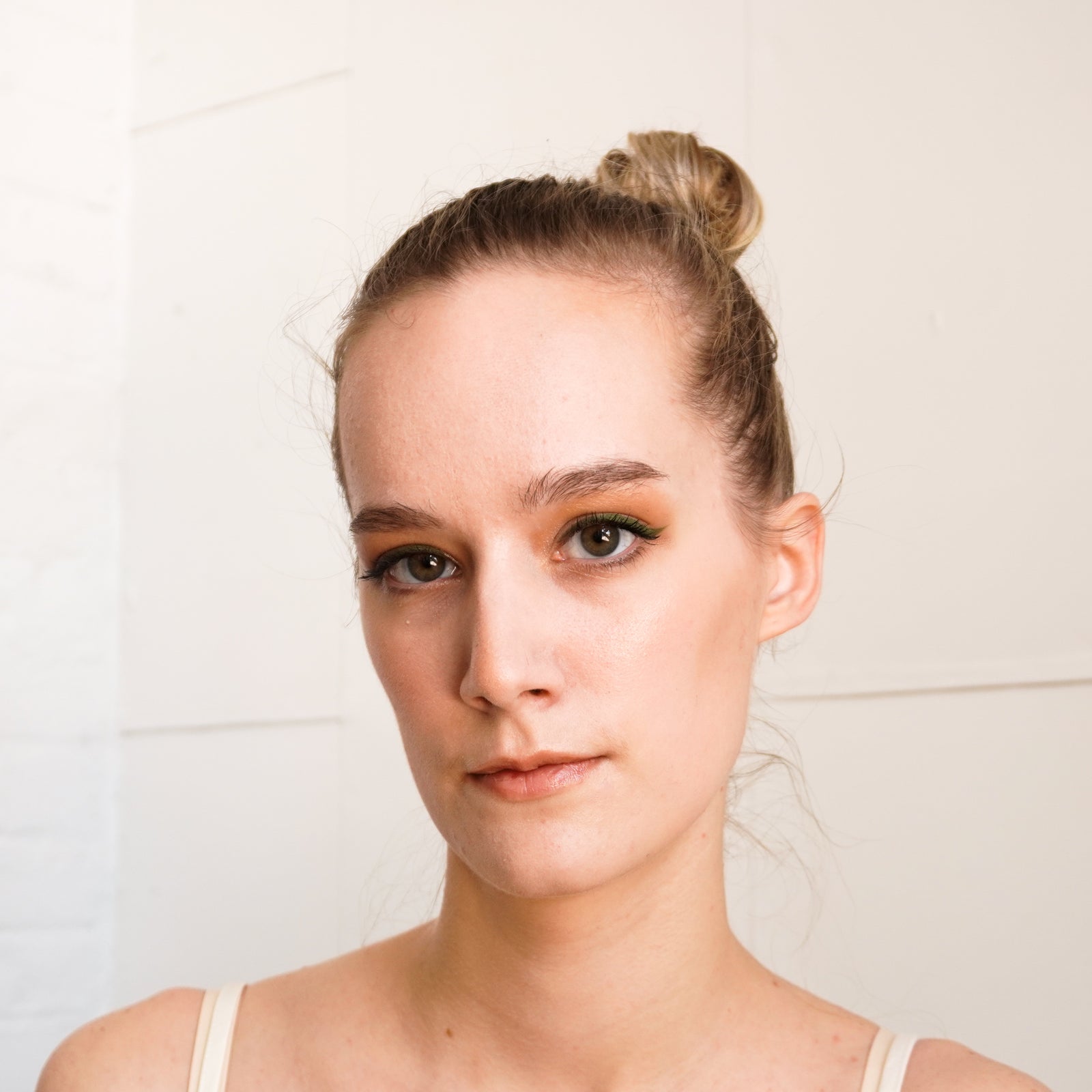 If there's one thing we know from working in the cosmetics industry, it's that seasonal trends can tend to be a real drag for the planet.
Oftentimes, the urge to buy seasonal makeup palettes, lip shades, etc. can make us completely fool ourselves into believing things like "of course I will use that neon orange eyeliner year round". For most of us, probs not, babe, probs not.
That being said, you don't have to go out and buy fall-branded products to be the seasonal, on-theme baddie you're manifesting off your Pinterest board (shameless plug: you don't want to sleep on our Pinterest account).
Here are all our favorite zero and low waste makeup picks to pair with your pumpkin spice delights.
My favorite everyday fall makeup look is all thanks to The Neutrals Palette. It has all the perfect Autumnal shades with zero plastic. Instead, it comes in a refillable, paperboard palette with a glass mirror inside.
This palette comes with four gorgeous shimmers:
Frost is a lovely sheer, ultra shimmery white. It's perfect for an inner corner moment but can also double as a highlighter.

Sunlit is a medium pigmented gold, which is one of my favorite fall eyeshadow colors.

Rose is a pigmented dusty pink with gold shimmer. It's another favorite when I want an even warmer look.

Earth, a medium-dark brown that's buildable to give you a dramatic smokey eye or subtle shading.
There are now 4 zero waste Eyeliner shades to choose from, and all of them are so perfect for creating fresh fall looks. Spice up your makeup with any of the shades, and rest easy knowing these are shades you'll love all year long.
Our limited edition Eyeliner shade, Ivy Green, is back by popular demand - this time for good! Ivy Green is a mossy green that can be applied to every season, but is a special favorite for fall.
For those who have been eyeing our Shimmer Brown shade but would really prefer a matte look, our new shade Matte Brown is for you! Matte Brown is a red-hued brown that dries completely matte.
Shimmer Brown is a darker brown with a subtle shimmer to add a little extra sparkle to your usual eyeliner looks. 
Then of course we have the ever-chic Black. Black is always the perfect go-to for everyday looks, and we love using Black for a dramatic liner paired with a smokey eye in fall.
Personally, we think you could rock any The Gloss color at any time, but here are our particularly Autumnal colors and combos.
A pigmented pink-toned brown. Brown lip colors are such a trend for fall, and this low waste lip gloss is so moisturizing and lightweight!
A pigmented rust red with gold flecks that also works well on its own, or is a perfect pair for our Poppy Fields Tinted Lip Balm.
The Gloss in Clear is certainly pretty all on its own, but using it over our Tinted Balms helps you customize your lip looks however you'd like! For some fantastic fall looks, we recommend combining Tinted Balm shades like Sugar Plum or Poppy Fields with our Clear lip gloss.
Earthy tones are so popular with fall makeup trends, and we have just what you need to create the perfect earth-toned eyeshadow looks. Our Loose Mineral Eyeshadows are zero waste and come in the cutest little glass pots with bamboo lids. Here's some of our favorite Loose Mineral Eyeshadow combos for fall, whether you prefer a classic matte look or a pop of shimmer.
What better way to create an earth-toned eye look than with our very own Earthy shade? Our Gold and Earthy shades are gorgeous shimmer shadows that pair beautifully. We recommend trying Gold on your eyelid and Earthy on the outer corner of your lid and/or blended into your crease, but experiment to create a look all your own!
If a matte look is more what you're looking for, you can create a similar look with our matte shades Sand and Cacao. Sand is a matte tan color and Cacao is a matte dark brown. Try Sand as your all over Color and Cacao in your outer corner and/or blended into your crease, or test out your own combos to create your best fall look.
__________
Seasonal trends can be a fun way to explore your creativity with makeup, and we are continually expanding our shades and options to help provide our customers with a low waste or zero waste way to express those trends!
What fall inspired makeup looks are you creating with Zerra & Co. makeup this season? We'd love to see what you create - tag us on Instagram at @zerra.and.co!
xoxo,
Brittney Kiera
Content Curator - Zerra & Co.
---