Our New Bamboo Compact and Blush Shades are Zero Waste, Vegan, and Sustainably Gorgeous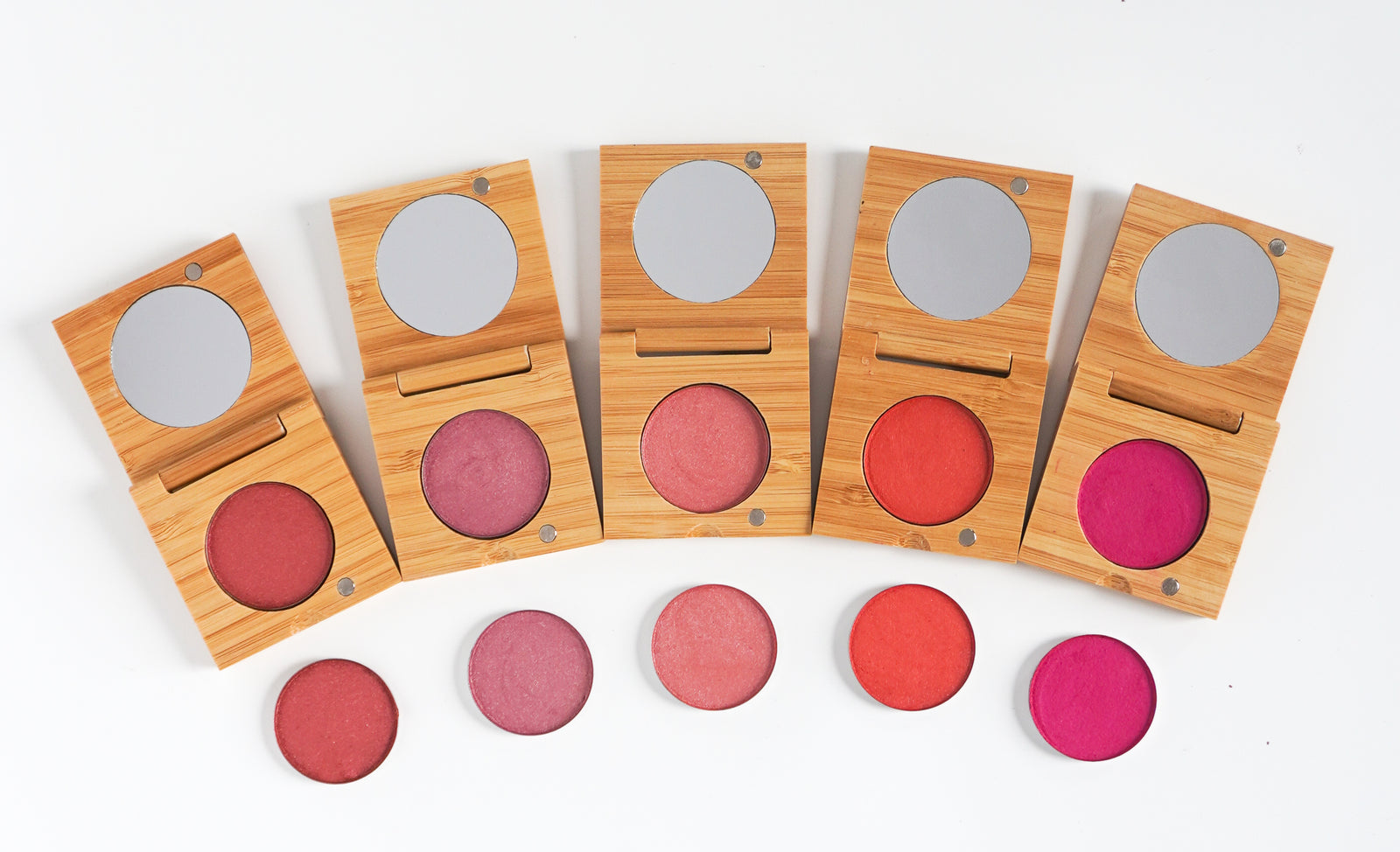 We are beyond excited to announce our brand new line of hand pressed, mineral blush shades and bamboo compacts!
I'd even go so far as to say these zero waste, all natural, and vegan blushes are just pretty enough to make you, well, blush.
We have 5 lovely shades available to choose from, all of which are completely sustainably packaged and the high quality you've come to expect from all our eco friendly products at Zerra & Co. We've also worked hard to make sure there are a variety of shades to complement all your gorgeous skin tones. 
Plus, we've done our best to give you a good selection of both shimmer and matte so you can choose your just-right shade along with your just-right amount of sparkle.
Here's everything you need to know:
Zerra & Co. Blush Shades

Saffron - Shimmer
The Saffron shade is a rust red color with a light bronze/gold shimmer. It's perfect for all skin tones with warm undertones.

Peony - Shimmer
Peony is a cool-toned pink with a gold shimmer. It goes well with medium to fair, cool skin tones.
Wild Rose - Shimmer
Wild rose is a warm-toned pink with a lovely pink shimmer. It's a great match for medium to fair skin tones with warm undertones.

Daila - Matte
Dalia is a vibrant coral. It's a great choice for dark, warm skin tones, or for a bright look on fair to medium skin tones.

Hibiscus - Matte
Hibiscus is a vibrant pink. It pairs well with dark and cool skin tones, or for a bright look on fair to medium skin tones as well.
Clean Ingredients
As always, our products are made with the best ingredients with no frilly fillers or toxic ingredients. We continue to be completely transparent and up front about all of our ingredients because, quite honestly, we love our quality ingredients! 
Our blushes are also entirely vegan and cruelty free, and we only purchase ingredients from cruelty free suppliers. 

And you don't have to worry about all the other potentially toxic ingredients that can be found in common drugstore blushes. 

For example, our blushes are totally talc free.

Talc, which you might recognize as talcum powder (what used to be commonly used for baby powders) can be found in many common cosmetics as well as blush. It's a mineral substance used for things such as anti-caking or absorbing moisture. However, talc can be contaminated with asbestos, which is a known carcinogen linked to cancer. Um, it's gonna be a no from us.

We are doing the work to make sure ingredients like that stop finding their way into the cosmetics we use every day.

Let's make sure those rosy cheeks are just as healthy and happy as they look!
Packaging
As you know, sustainable packaging is essential at Zerra & Co., and we are always looking for new ways to offer sustainable cosmetics options that are also easy to use and reuse!

Our hand pressed blush comes in a super cute and sustainable bamboo compact with a mirror for on the go blushing up. Plus, it's completely refillable! We know - total game changer.

When you've used up all your blush, you can simply pop out the metal tin and replace it with one of our blush refills. The blush refills come in plastic-free, commercially compostable pouches. Just pop it in the bamboo compact and return to your usual blushing business.
---
Be sure to keep an eye on our Instagram page @zerra.and.co to see these blushes in action!
You can also reach out to us any time at contact@zerraco.com with any questions you have or for help with picking out your perfect shade.


---