The Gloss: The Low Waste Lip Gloss You've Been Looking For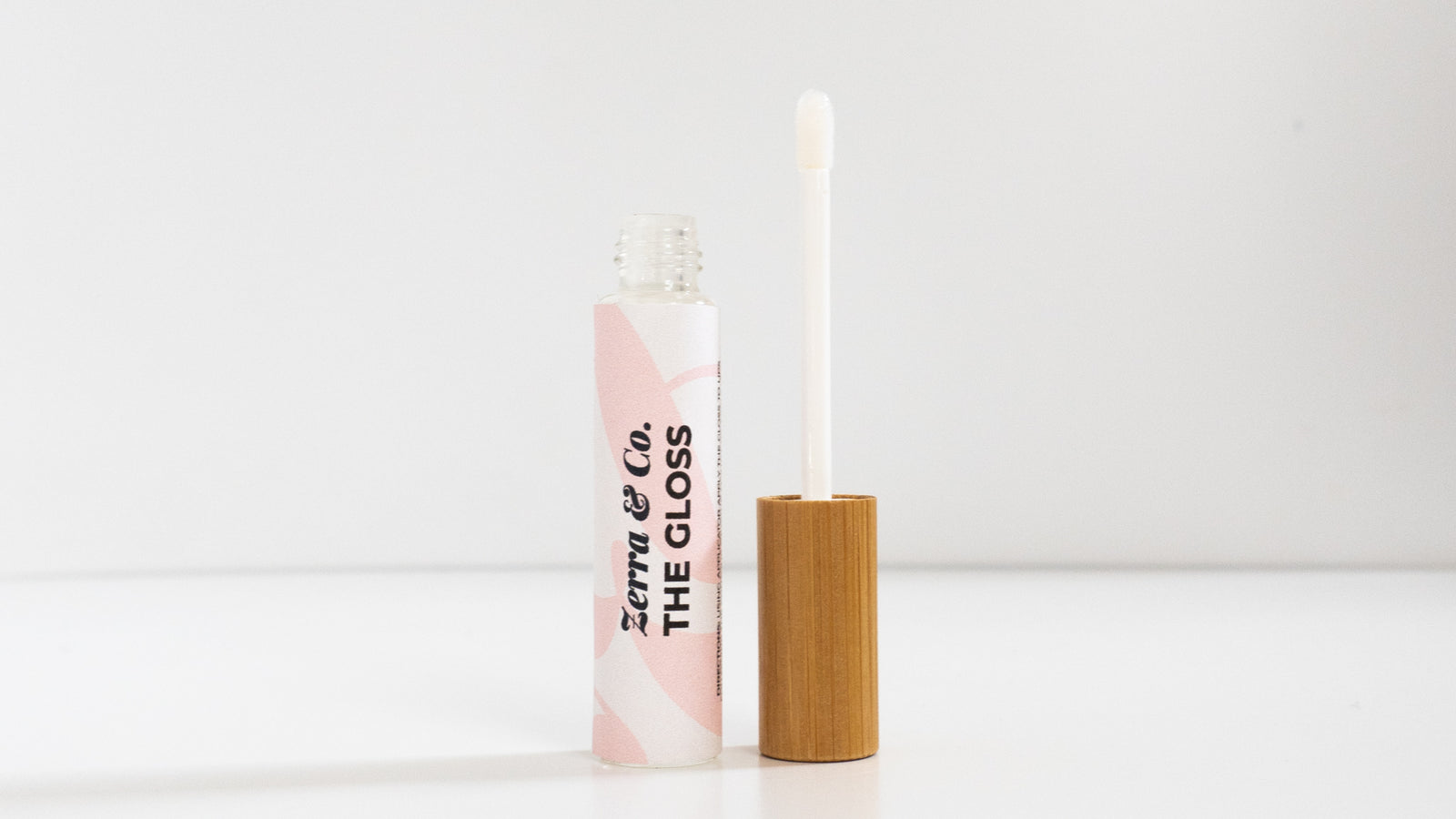 The wait for a low waste lip gloss that fits flawlessly into your sustainable makeup routine is over, my friends! We finally created a way to create sustainable lip gloss packaging with far less plastic than conventional lip glosses, without sacrificing quality.
We bring you (drumroll please…) The Gloss!
Here's everything you need to know about The Gloss, our new line of sustainable lip glosses:
The Gloss: Zerra & Co.'s Low Waste Lip Gloss
The Gloss is high shine, with the slightly sticky texture you'd expect from a gloss, but still lightweight and non-greasy.
There is one clear option and 5 other dreamy shades to choose from:
Clear: A clear gloss base, acts as a perfect topper to add gloss to any lip look.
Petal: A medium pigmented pink without shimmer. The perfect pop of pink, pigmented enough to use as a stand-alone gloss.
Cappuccino: A pigmented pink-toned brown, also without shimmer. Another perfectly pigmented gloss to use on its own.
Terracotta: A pigmented rust red with gold flecks that also works well on its own, or is a perfect pair for our Poppy Fields Tinted Lip Balm
Coral Reef: A pigmented orange-y pink with pink shimmer that's great as a standalone lip look.
Gold Mine: A clear gloss base with gold shimmer and no pigment, made to pair with virtually any lipstick to give it an enhanced shine and shimmer.
Sustainable Packaging
Unlike conventional lip glosses, which are encased in plastic and headed straight for landfill at the end of its life, The Gloss is packaged in a glass tube with a bamboo lid (just like our low waste mascara, The Mascara). This means our lip gloss packaging contains around 85% less plastic by weight than conventional lip glosses!
We also are using noissue labels, which are compostable and FSC certified.
The great thing about this packaging is that it works just like the conventional lip glosses you might be used to - perfect to throw into your makeup bag or pop into a pocket and easily apply no matter where you are. 
Natural, Effective Ingredients
Most lip glosses are made with petroleum-derived ingredients that do not break down in the environment. Instead, The Gloss is made with a Jojoba Oil, Marula Oil and Vitamin E Oil blend, which are all natural ingredients. The perfect blend for moisturizing and your softening lips without all the unnecessary filler ingredients. They are also high in antioxidants and vitamins for even more moisturizing power!
Better yet, our formula is preservative free, and instead contains Vitamin E to extend the life of your gloss.
And like all of our products, The Gloss's formula is completely vegan and cruelty free!
We are so excited to add this line of sustainable lip glosses to our ever growing collection of eco-friendly makeup alternatives. Be sure to show us all your looks by tagging us on instagram @zerra.and.co and using the hashtag #zerraco!
---