Unique Eco-Friendly Valentine's Day Gift Ideas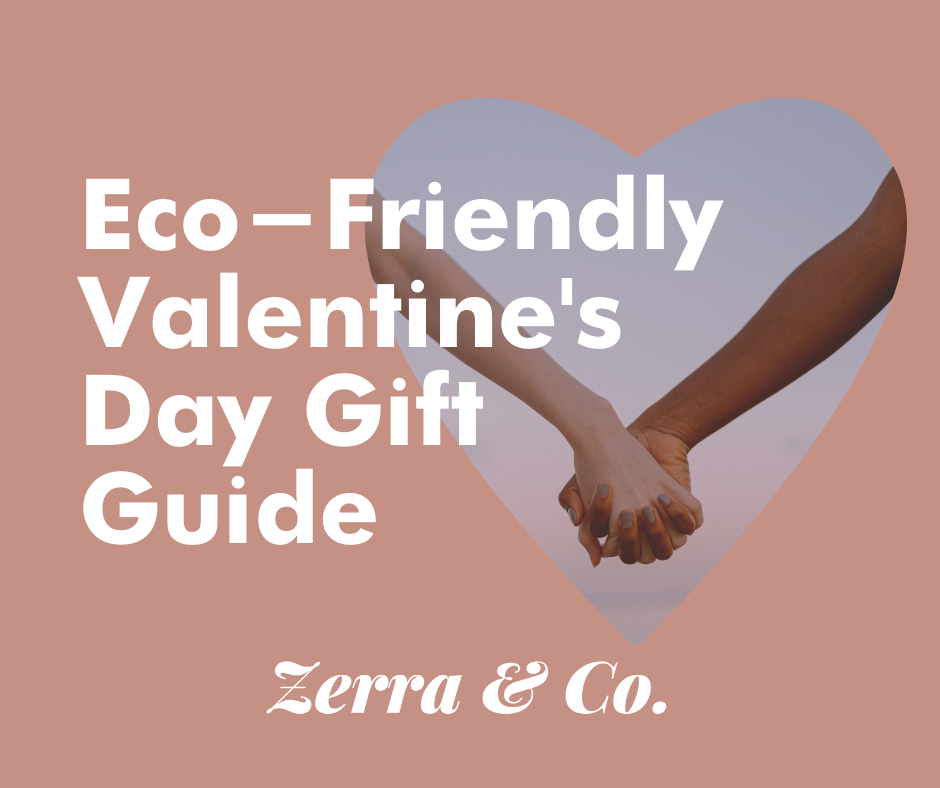 Valentine's Day might have fallen into the common holiday trap of consumerism, but when it's celebrated intentionally it can be a perfect opportunity to celebrate love in every form: for others, for yourself, and even for the planet (cue the "awwwwww").
So whoever your Valentine is this year - your partner, your bestie, yourself, all of the above - we've got you covered with all our best eco-friendly Valentine's Day gift ideas.
For the Flower Lover
Store bought flowers are a go-to for Valentine's Day, but those swoon-worthy bouquets aren't leaving such a pretty mark on the environment. Data from the International Council on Clean Transportation (ICCT) shows that flying 4 billion flowers from Colombia to the US during peak season (between Valentine's Day and Mother's Day) produces around 360,000 metric tons of carbon dioxide emissions.
Instead, give them a greener way to grow. Skip the overpriced vase of flowers and pick out a special houseplant, potted flowers, or even a packet of flower seeds native to their area. Flowers come and go within a week, but a houseplant or garden flowers will grow over the years to come. Just like your love for each other. *sigh*.
If you're shopping for yourself, try growing something you haven't before, like that houseplant you've had your eye on but didn't want to splurge on yet, or a little herb garden for the window sill.
For the Hard to Shop For
Wondering what to get the person who already has everything? Or maybe it's the minimalist friend who already has (and wants) nothing?
A sweet and sustainable Valentine's Day gift idea is a homemade meal or treat. Momma always said the stomach is the way to the heart after all.
Plan ahead and take a trip to your local farmer's market to pick up your ingredients (don't forget your reusable bags or baskets!) and support local growers for some extra eco-friendly flair. 
Check out these Vegan Valentine's Day Recipes for some ideas if you're not sure what to make! 
For the Crafter
If you've got a crafty sweetheart in your life (or if that's you), skip the cheap candles and instead plan an afternoon of candle making! Making them instead of buying them means spending quality time together, plus you end up with some high quality candles and non-toxic ingredients.
Reuse a candle vessel you already have, some repurposed jars, or pick up some funky vases from the thrift store.
Unsure of where to start? Check out Siblings for eco-friendly candle making supplies and kits and set the date!
For the Adventurer
If you or your Valentine has an adventurous heart, the best gift might not be found in a store at all! Instead, plan an activity. You can pick a hike you've had your eye on, or even start a tradition of hiking your favorite trail or visiting your favorite lookout for a picnic (tip: have an in-car picnic if it's still too cold for an outdoor picnic where you are).
We love AllTrails for finding the perfect hidden hikes, especially the hidden gems of your area!
If you've got more time and gas money on hand, take a day trip to a nearby town and play tourist for the day. Make a special playlist for the drive for an even more romantic adventure.
For the Collector 
Have someone in your life who loves collecting something? Whether it's records, colorful cocktail glasses, or vintage jeans, chances are you can hunt them down at your local thrift stores or curated vintage shops.
The weekend before Valentine's, head out to a few shops or browse Facebook Marketplace to see what you can find. Or set a thrifted/vintage shopping date for Valentine's Day and go together!
For the Self Care Sweetheart
Whether you're looking to treat yourself, your bestie, or your partner, you can never go wrong with an at-home spa day and a favorite rom-com! Here's some of our recommended zero waste skincare to add to your Valentine's Day self care gift basket.
Lucky for you, the best ever body exfoliator you'll ever find happens to be zero waste, and makes the perfect sustainable Valentine's Day gift! Our Walnut Body Polish exfoliates gently but effectively, and is entirely biodegradable. We paired in Almond Oil and D-Panthenol to help deeply moisturize, so our scrub won't leave you feeling dried out. To finish it off we added Green Tea Extract to help soothe skin as you exfoliate.
Zero Waste Face Masks
Who can have a Valentine's Day spa day without a face mask? We've got a zero waste face mask perfect for your skin type - your skin and your sweetheart will thank you. Our face masks are plastic free and come in glass jars with metal lids.
Our Green Tea Radiance mask is a hydrating gel mask that will leave your skin glowing! Made with a Papaya and Pineapple base to gently exfoliate and remove dry, dead skin cells, this mask will leave your skin looking rejuvenated. It also includes moisturizing Aloe and Green Tea Extract, which is high in antioxidants and helps to even skin tone.
Like the name would suggest, this mask is made with Activated Charcoal which can help remove bacteria, dirt, and build-up on the skin. Allantoin can help to reduce visible inflammation and acne, while Oatmeal helps to soothe irritated or sensitive skin.
For the Makeup Lover
If your Valentine can't get enough makeup, but is looking for more sustainable makeup options, check out our eco-friendly makeup line to give them the best of both worlds.  Here's some of our Valentines Day favorites:
The Gloss is our sustainably packaged lip gloss, and is such a versatile, eco-friendly Valentine's Day gift. It comes in a glass tube instead of a plastic tube, and paired with a bamboo lid it contains far less plastic than conventional lip glosses.
We have 6 gorgeous shades to choose from, but our personal favorites for Valentine's Day are Terracotta and Petal. 
Is there a better day for blushing cheeks than Valentine's Day? Our Pressed Mineral Blush is a crowd favorite - it's sustainably packaged in a refillable bamboo compact that's as cute as it is earth friendly. We have shades fit for every skin tone, but our Valentine's Day picks are Dahlia and Saffron.
Looking for an eco-friendly gift that's (almost) as cute as your Valentine? Our Loose Mineral Eyeshadows are cute as buttons and zero waste too! They come in glass jars with bamboo lids, and like many of our other products, are eligible for our Container Return Program.

Our favorite Valentine's Day color combo is Pearl, a shimmery light pink, paired with Rust, a warm red with gold shimmer flakes.
xoxo,
Brittney Kiera
Content Curator - Zerra & Co.
---