Which Mascara is Right For Me?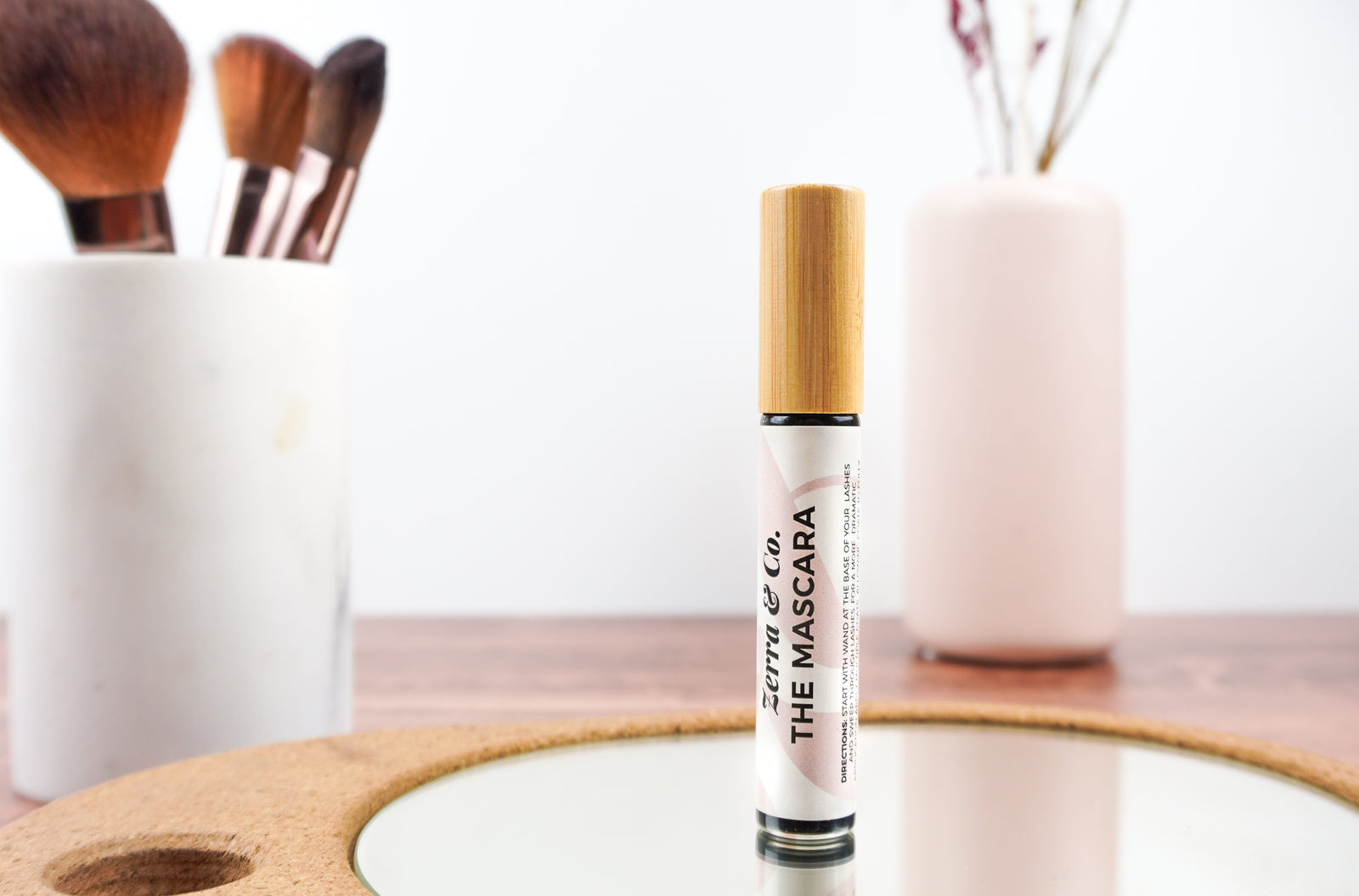 We get it: swapping to an entirely zero waste makeup routine overnight can feel a little overwhelming. And we totally understand how zero waste products might feel a bit intimidating when you've been using conventional and disposable products your entire life.
With that in mind, we came up with the perfect meet-you-in-the-middle solution: Our low waste option, The Mascara!
With the look, feel, and application of conventional mascaras, it's the perfect transition for those who are looking to reduce their waste, but aren't quite ready to jump into our zero waste mascara yet.
Our low waste mascara isn't completely plastic free, but it does have about 85% less plastic by weight than conventional mascara. Plus, you can now reuse the wand endlessly by ordering our The Mascara Refills each time you run out!
As of writing this, our customers have helped us keep 4,216 plastic mascara tubes out of landfill since 2018. That's equal to 131 pounds of trash! We think that's definitely something to celebrate, so we are hoping that with this addition we will appeal to even more people and keep way more plastic tubes out of landfill.
Here at Zerra & Co., we know zero waste isn't about being perfect, we just need more people to make small changes and it will have an overall larger impact. We don't need one person doing zero waste perfectly, we need a ton of people doing it imperfectly.
Don't worry, though! It's not replacing our zero waste mascara, just a new addition to our ever growing collection for those who are looking to transition to a more eco friendly option.
Wondering which option is best for you? We're comparing both options below so you can figure out which one fits best into your lifestyle.
The low waste mascara is always ready to go - no cleanup required. Just throw it in your bag and apply anywhere, anytime!
Packaging:

The tube itself is glass, the lid is bamboo, and the wand and reducer is the only part that is plastic. 
Wand:

the spoolie wand is built in and screws into the tube just like the conventional mascaras you might be used to. This makes it great for travel and those makeup on-the-go kind of days.
Application:

using our low waste mascara is as easy as applying, screwing the top back on and being on your way, just like conventional mascara! This is definitely the route to go if you're looking for speed and convenience. 
Refills:

 The Mascara also has super easy to use refills so that you can reuse your wand endlessly and prevent plastic waste. Refills come with a metal lid, so when you receive yours simply switch the wand over to the refill and the metal lid to your empty vial and send the empty one back to us through our Container Return Program! The refills look very similar to the The Mascara with Zero Waste Packaging, however, they have a reducer inside to scrape the excess product off your wand as you pull it out.
Our tried and true zero waste mascara is a customer favorite and completely zero waste!
Packaging:

Our zero waste mascara is plastic free. The vial is glass, and the lid is metal.
Wand:

You can use the included bamboo wand, or opt out and reuse a thoroughly cleaned wand from an old mascara. 
Application:

For the zero waste mascara, dip your spoolie in the tube to coat it in mascara, spin it against the edge of the vial to remove excess mascara, then apply! When you're done, simply rinse your spoolie under hot water until it runs clear, and leave it out to dry.

Refills:

Since adding the Bamboo wand is optional, every future order is a refill when combined with our

container return program

!
Both Mascaras
Despite those few differences, our Low Waste and Zero Waste Mascaras actually have a ton in common. Some things we are pretty proud of, if we do say so ourselves. Check it out:
Formula:

Both our mascaras are created with the same great formula. Our formula is completely vegan, cruelty free, and all natural. It has just a few natural ingredients that you can actually pronounce. You can take a look at our full list of ingredients right on our product page of either mascara.
Pro tip: using this mascara might feel a bit different than the synthetic mascaras you are used to; it takes a second to dry, so apply, let it dry for a minute, then you can apply more coats to thicken it up!
Size:

The containers might look a little different, but both mascaras are 0.33 fl oz (10 ml).
Container return program:

Have you looked at our

container return program

? Both our mascaras - and any of our other glass or metal containers - are eligible for the container return program!
Zero waste labels:

 All our labels are completely biodegradable and plastic free.
Shipping:

We ship all our orders in 100% compostable and recyclable shipping materials. Even our tape is compostable! Plus, we ship carbon neutral.
Shelf life:

Both mascaras are good for 12 months after opening or 16 months from purchase, whichever comes first.
We hope this clears things up a bit, and helps you pick out the perfect mascara to fit into your lifestyle and current stage of waste reduction. Remember that every change you make adds up to a way bigger picture of our reduced impact on the world. We're all in this together!

Have more questions about our Low Waste Mascara? Feel free to email us anytime at contact@zerraco.com or shoot us a DM on our Instagram, @zerra.and.co.
XOXO
Brittney Kiera 
Content Curator - Zerra & Co.
---