Zerra & Co.'s 2022 Sustainability Wrap Up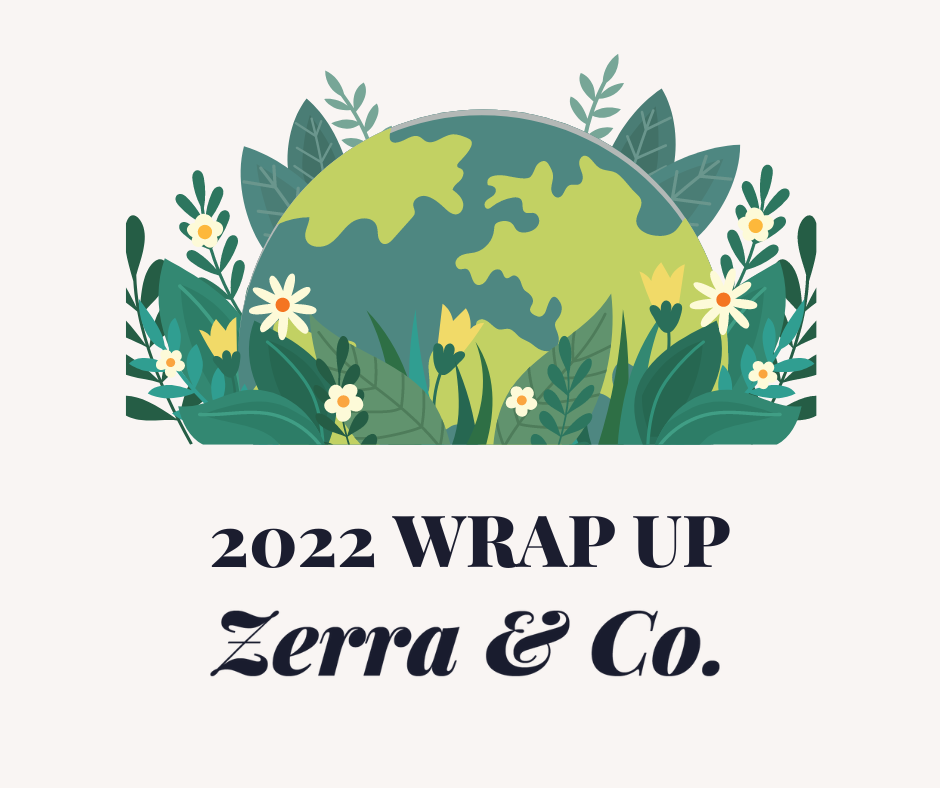 As each year comes to an end, we like to take a moment at Zerra & Co. to step back and reflect on our accomplishments of the previous year and all our wildest dreams for the year ahead.
And, let's be honest, we like to revel just a little in the fact that we're banding together with our lovely customers like you to prove to the world that a small, sustainable beauty brand can make a big difference.
Impact Overview for 2022
Sometimes it's hard to imagine how much of an impact each of us can make as individuals, but when you consider the bigger picture of like-minded people coming together and making like-minded changes, it brings it all into perspective.
We are so incredibly thankful for the community surrounding this brand. With your amazing support throughout 2022, Zerra & Co. was able to:
Replace

20,000

plastic cosmetic containers with our plastic free products.

Remove over

450 kg

of shipping emissions with carbon neutral credits.

Upcycle over

300

containers through our

Container Return Program

.

Donate over

$2,000

to local environmental groups.
With people becoming more and more aware of the environmental impact within the beauty industry and looking for eco-friendly alternatives, we are ecstatic to watch those numbers rise.
Leaping Bunny Certification
Another great milestone for us in 2022 was our Leaping Bunny Certification. 
This certification is our pledge that all our products are 100% free from animal testing in all stages of product development, including our ingredient suppliers and manufacturers. While Zerra & Co. has always been a cruelty free cosmetics company, getting this certification is a great way to assure all our customers that we always uphold this standard, and provide them with peace of mind knowing that we are now open to independent audits and will renew our commitments on an annual basis.
If you'd like to learn more or have other questions, you can visit Leaping Bunny's FAQ page.
1% For the Planet
Zerra and Co. also became proud members of 1% for the Planet, a registered nonprofit and global movement inspiring businesses and individuals to support environmental solutions through annual membership and everyday actions.
If you'd like to learn more about 1% for the Planet, you can visit their About Us page.
As members of 1% for the Planet, we committed to donating our 1% to Blue Water Baltimore, an amazing environmental group local to us. Blue Water Baltimore's mission is to restore the quality of Baltimore's rivers, streams and Harbor to foster a healthy environment, a strong economy and thriving communities.
Blue Water Baltimore works towards this mission by taking actions like:
Where We're Headed in 2023
Needless to say, 2022 was a fantastic year and it's been so encouraging to see how much of a difference we can collectively make simply by swapping our daily beauty products for sustainable alternatives.
As we plot and scheme for 2023, we're even more excited for what's to come. We don't want to give out all our sizzling secrets, but we'll give you all a glimpse behind the curtain to share the excitement.
Some sustainable beauty things to look forward to:
Solid skincare: Ditch any unnecessary bottles in your skincare routine, and ditch the high price tags while you're at it.

No frills & package free skincare is coming soon!

Container upgrades: We've heard your cries - 

redesigned foundation & setting powder containers

are on the way!
Whether you're an OG Zerra & Co. fan or brand new to our brand, we just want to thank you from the bottom of our hearts for all your support and encouragement for our business, and for your compassion and care for the planet.
We're beyond excited to head into 2023 and bring you even more sustainable beauty options than ever!
xoxo,
Brittney Kiera
Content Curator - Zerra & Co.
---