Create A Zero Waste Skincare Routine With Solid Skincare Bars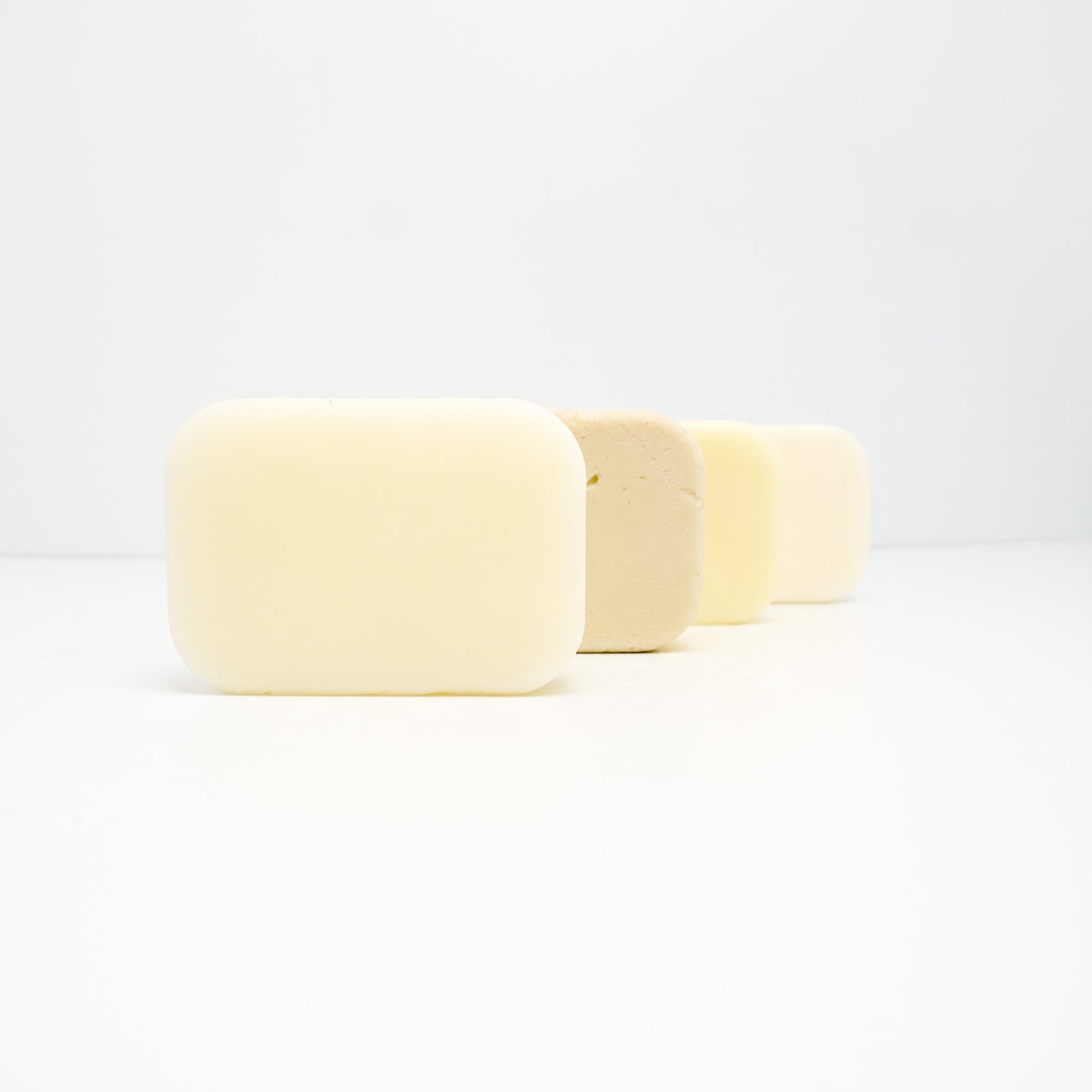 Okay, so you've fallen in love with your safety razor, shampoo bar, and washable cotton rounds, but how on Earth do you curate a zero waste skincare routine that's up to par with the routine you've carefully curated over years of trial and error? The fact of the matter is, the skincare industry has a pretty ugly impact on the environment, but how do we make our skincare work for us and the planet?
Sure, you could forgo your beloved routine altogether and join the "just water" club, but should you really have to sacrifice all self care for sustainability? We certainly don't think so. Instead, get everything you need out of your skincare routine, in bar form.
Why switch to a solid skincare routine?
Not only is our solid skincare routine completely plastic free, it's also the most eco-friendly skincare option when it comes to all the steps in between, from manufacturing all the way into your bathroom cabinet. 
You see, traditional liquid skincare products contain 60-80% water. Not only does that mean more water is used in production, it also means you're paying for more water than the good stuff your skin actually benefits from.
When you pack those amazing ingredients into bar form, you can skip the water and your products will last much longer. Considering one of our bars is equal to at least two 8oz bottles (or more, depending on how much you use), you could potentially halve your skincare budget.
Skincare bars are way lighter to ship too, which creates far less emissions than shipping traditional liquid products.
With our solid skincare line, we wanted to prove you can cover all your skincare bases without sacrificing results. Our skincare bars are carefully handcrafted for all skin types, sensitive skin included. They are cruelty free, completely vegan, and zero waste. Each bar comes packaged in a reusable Zerra & Co. tin (refills on the way!), and ships to you 100% plastic free.
On top of all that, solid skincare makes traveling way easier. Pop it in your carry-on and leave your liquid TSA worries behind.
Check out the lineup and see for yourself how you can revolutionize your skincare routine.
The Eraser
The eraser is our solid makeup remover bar. It's the perfect alternative to your coveted cleansing balm that gently melts away even the most stubborn makeup. Made with only 4 simple ingredients, it works simply and it simply works. The hydrating castor oil base breaks down makeup without irritation and rinses off easily leaving skin feeling squeaky clean, but not tight or dry.
Directions:
Rub the bar in your hands to warm it up and it will begin to come off on your hands. Gently rub into skin to remove makeup. Rinse with warm water and follow up with The Cleanser.
The Cleanser
Put down the bar of body soap that's most definitely NOT made with more sensitive facial skin in mind! The Cleanser is our zero waste facial cleansing bar. It's a gentle coconut based cleanser with soothing and clarifying kaolin clay. Hydrating sorbitol & jojoba oil help make this cleanser effective without stripping or overly drying skin. It's made for all skin types, but it's especially friendly to sensitive skin
Directions:
Rub the bar with wet hands until a lather forms. Wash your face and/or neck with gentle circular motions and rinse with water. Let the bar dry between uses to ensure longevity.  Follow up with The Moisturizer, or The Exfoliator on occasion.
The Exfoliator
When it comes to sustainable skincare, a zero waste facial exfoliator that's properly formulated can be hard to find. Skip the DIY recipes like sugar or baking soda which can be harsh for the more sensitive skin on your face, and try our Exfoliator instead. It's made with biodegradable jojoba & castor beads (no plastic microbeads here) which are safer for facial skin . It gently exfoliates away dead skin without irritation. The added cocoa butter & grapeseed oil help soften skin in the process.
Directions:
Gently rub the bar directly onto wet skin, or rub it onto your wet hands and then apply to your face if you have sensitive skin or are looking for a gentler exfoliation.
The Moisturizer 
The Moisturizer is our game changing zero waste face moisturizer bar. It's a concentrated waterless moisturizer, meaning a little goes a long way. Made with Macadamia Nut Oil, Evening Primrose Oil, and Mango Butter, it offers superior hydration without leaving a heavy or greasy feeling. Sorbitol moisturizes and soothes, while Rosemary Extract softens and smooths skin.
Directions:
Gently rub the bar in wet hands to emulsify the product. Use less water for a thinner moisturizer, or more water for a thicker moisturizer. Rub into your skin and let it soak in.
Looking to round out your routine?
Check out some of our other sustainable skincare options to target your specific needs. These products aren't in bar form, but they're still great eco-friendly alternatives to traditional skincare! 
Full of botanical extracts, this zero waste toner is gentle yet effective. With an Aloe Juice and Rose Water base this formula won't strip skin, and the dash of sugar-derived Polysorbate will help pick up any remaining grime or dirt. Green Tea Extract is the star ingredient of this toner; it's high in antioxidants and has anti-inflammatory properties that can help reduce redness and skin irritation.
Packaged in a plastic free glass bottle, pick up the Botanical Toner by itself or in our The Routine bundle! 
Give your skin a moisturizing boost and a healthy glow with a facial oil formulated for your skin type. Pick between our hydrating Dry Skin Formula or our acne-friendly Oily Skin Formula. These oils are packed with nutrients to help give skin a gorgeous glow. 
Zero Waste Face Masks
Skip the sheet masks on spa day: our face masks are completely plastic free and far more luxurious.
Our Green Tea Radiance Mask is a hydrating gel mask that will leave your skin glowing! Moisturizing and exfoliating, this mask helps to get rid of old dry skin cells while keeping new skin cells soft and moisturized. 
If you're looking for a deeper clean, try our
Activated Charcoal Detox Mask
. This mask can help to remove bacteria, dirt, and build-up on the skin. Allantoin can help to reduce visible inflammation and acne, while Oatmeal helps to soothe irritated or sensitive skin.
---