How to Travel With Zero Waste Beauty Products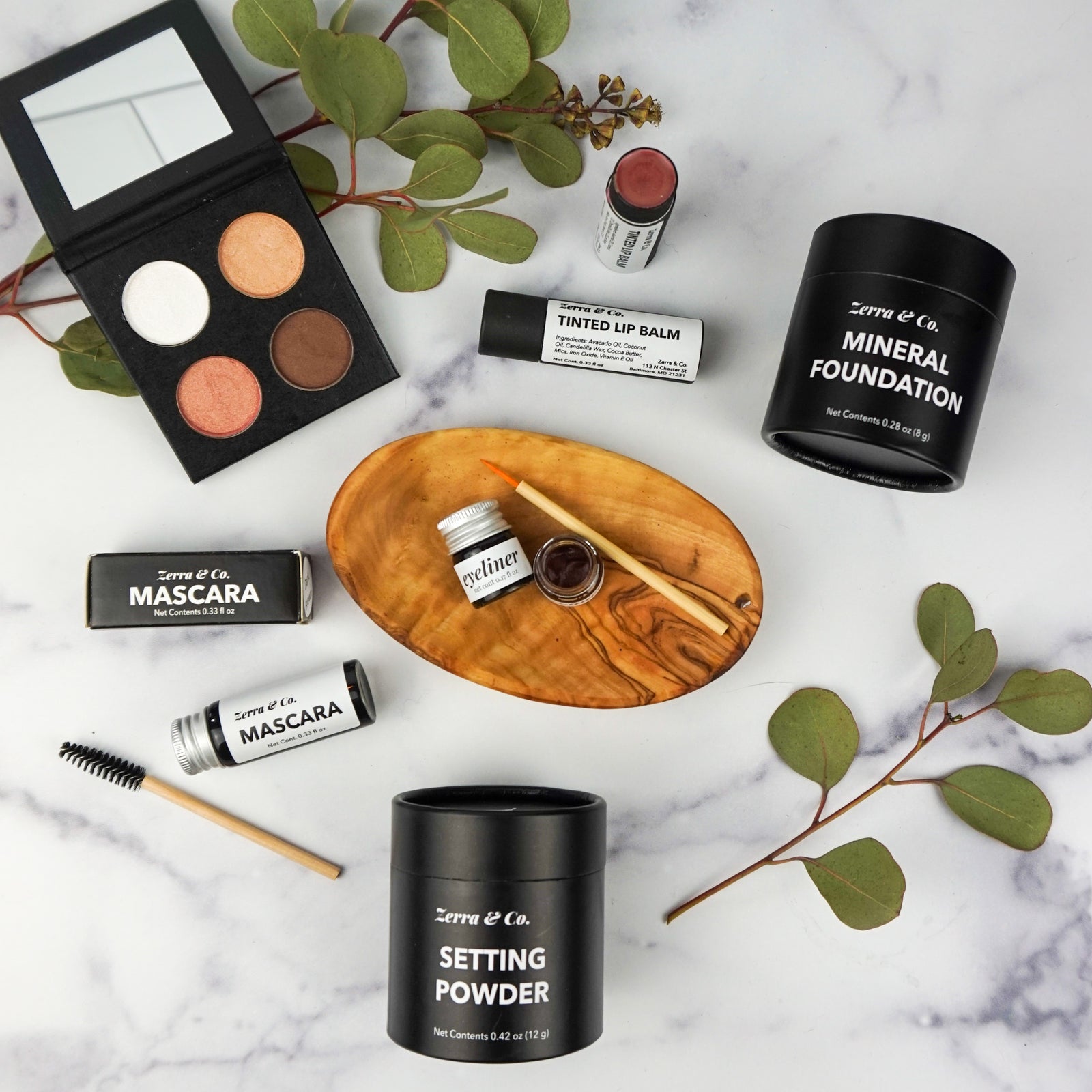 So you've made the sustainable bathroom swaps and you're on your way to a low waste beauty routine that's good for you and good for the planet. But when it comes time to pack your toiletry bag with all your sustainable beauty products, you might feel a bit stumped.
How do you travel with zero waste beauty products, anyway?
Before diving into sustainable living, you might have made a trip to the travel size aisle, picked up your usual go-to brands, and tossed 'em in your toiletry bag. It's certainly the easiest way to get all the essentials into your carry-on, but unfortunately those little travel sized bottles create a lot of plastic waste for barely any product. Chances are, you'll only use them for one single trip before they start leaking or there simply isn't enough product left for another trip.
Instead, you can take your eco-friendly products with you on your biggest adventures without too much hassle! Here's some of our tips to make traveling with low and zero waste beauty products simple and easy.
Happy travels!
Keep it Simple: Less is More
The easiest way to travel with your eco-friendly toiletries is to keep it simple and adopt a minimalist makeup and skincare routine. Choose only your favorite shades of makeup - the most versatile or the ones you know you'll use most often and skip the rest.
It's also helpful to bring products that are multi-purpose. For example, bring your favorite multi-stick instead of individual products that serve the same purpose and save space. Our Tinted Balm is fantastic for this - you can use it a myriad of ways including blush and tinted lip balm! 
I also tend to use oils to remove makeup when I'm traveling and don't have my usual Makeup Remover on hand. Our Facial Oil is perfect for this because it comes in a small enough bottle to bring in my carry-on and it's dual-purpose as a makeup remover, cleanser, and/or moisturizer. Plus we have formulas specifically for Dry Skin and Oily Skin so you can pick whichever is best for your skin type.
How to Pack Glass Containers
Packing zero waste glass containers can be a bit more nerve-wracking than traditional plastic containers. But with a little more prep, your glass containers should arrive at your destination safe and sound. 
The best tip I can give you is to pack your toiletries in your carry-on instead of your checked bag, which can get thrown around a lot or put at the bottom of a pile of luggage. If you've ever watched baggage getting loaded into the bottom of a plane from your window or seen bags tumble into baggage claim you know what I mean! You are in charge of how your carry-on is handled, which makes it the safest place for any glass containers.
Other than that, just use a little more caution when packing glass containers. Make sure you pack your toiletry bag at the top of your bag so nothing glass gets smashed. This also gives you easy access when you're going through security so you won't have to fumble around. 
You can give your fragile containers a bit more cushioning to keep them safe, such as wrapping them in a washcloth or handkerchief.
Use What You Have
The best way to limit waste is to use what you have! Many of us already have travel sized containers lying around or other alternatives that will serve the purpose.
Upcycle or reuse travel containers you already have for products that are too big for carry on, like our Gel Face Wash, Makeup Remover, or Botanical Toner. You can also save small glass jars such as spice jars or jars from other used up cosmetics and fill them with whatever zero waste beauty products you can't live without!
Use Less Liquid Products While Traveling
You can also save space and avoid extra hassles like leaking by choosing solids over liquids when you can. For example, instead of liquid lotion, opt for one of our Lotion Bars and a Lotion Bar Tin to save space in your quart-sized bag. You can also bring shampoo and conditioner bars along with bar soap and you'll have far less liquids to worry about packing and keeping safe on your travels.
Choose Products That are Easy to Travel With
Overall, it keeps things simple to choose items that are easier to travel with. If you have zero-waste items that are a bit tricky to use when you're traveling, look for eco-friendly options that are just a little more travel friendly. Remember that it's always about progress over perfection, and your sustainability goals also have to be sustainable and attainable within your lifestyle!
The Mascara is a great option for travel because it's easy to use on the go - you don't have to wash the brush after using it, and it's all in one vs. a separate brush and mascara tube. It does contain a small amount of plastic, but it contains 85% less plastic by weight than conventional mascaras in plastic tubes. Plus, it's eligible for our Container Return Program!
__________
Have specific questions about traveling with our zero waste makeup and skincare? Feel free to send your questions our way by emailing us at contact@zerraco.com or shooting us a DM on Instagram
@zerra.and.co
and we'll be happy to help!
---