This Pressed Mineral Highlighter is Zero Waste & Vegan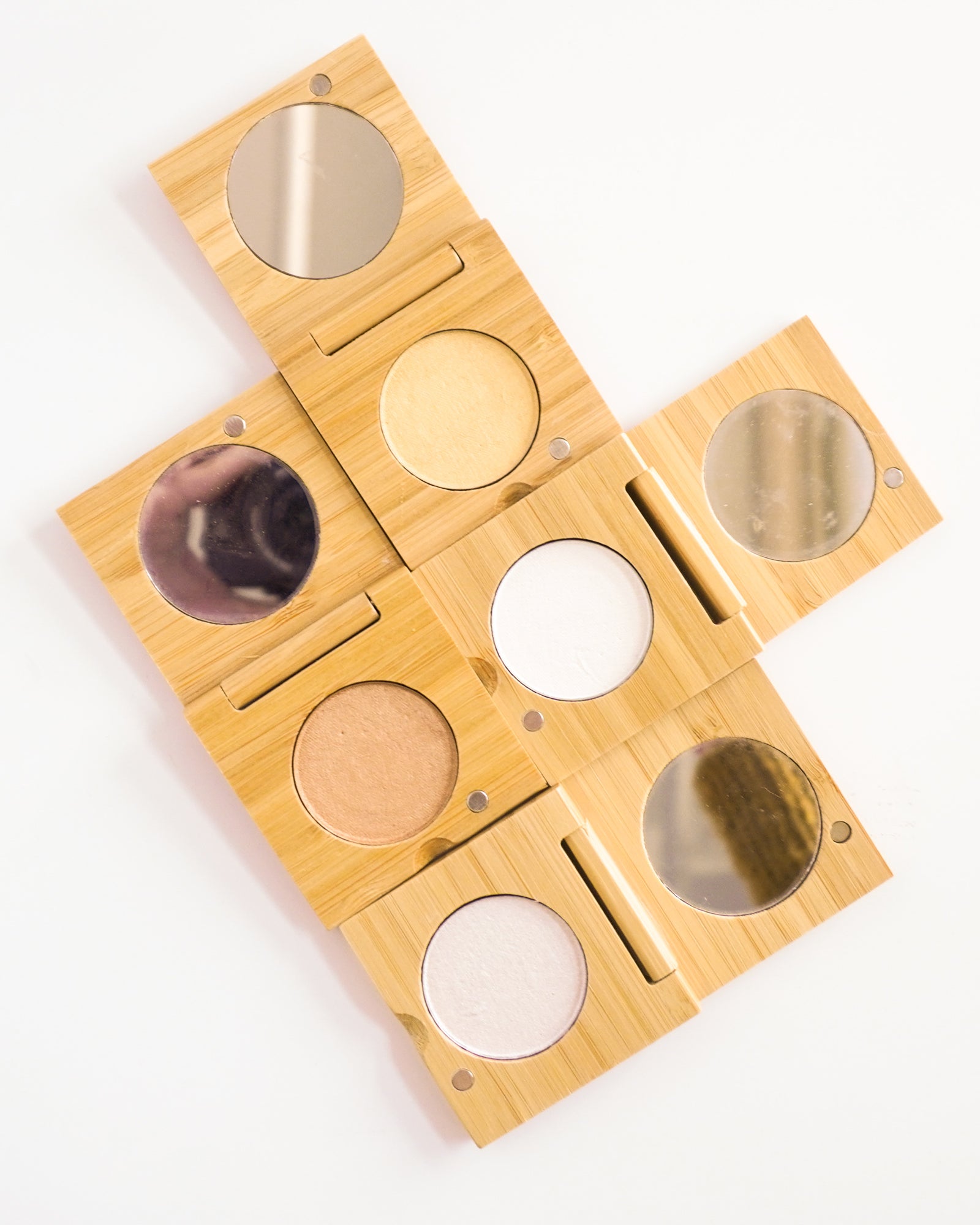 Our Pressed Mineral Highlighter is the sustainable way to add a little sparkle to your day. Not only is it completely plastic free, but it is also vegan, cruelty free, and free from many harmful ingredients you might find in conventional makeup.
We always want to create sustainable makeup choices for every gorgeous skin tone, so we've included 4 shimmering shades in our Pressed Mineral Highlighter line. All of which are made with natural ingredients that are kind to your skin and to the planet.
Here's a closer look at what makes our Pressed Mineral Highlighter special:
Shades for Every Skin Tone
Frost is a sheer, pearlescent white color that complements fair skin tones. 
Gold Rush is a light golden shimmer and is great for medium to dark skin tones.
Tundra is a neutral beige shimmer for a subtle & natural looking highlight that's lovely on all skin tones. 
Northern Lights is a subtle holographic shimmer that shifts colors in the light, and is a fun shade for all skin tones.
It's important to mention that all of our suggested pairings of skin tone and makeup shades are just that - suggestions. We think it can be helpful to give these tips for those looking for a bit of guidance, but ultimately makeup is a creative practice and you should feel free to explore all shades. We encourage you to try the shades that appeal most to you and feel free to play around and have fun with your makeup!
Vegan & Clean Ingredients
Like all our products at Zerra & Co., our Pressed Mineral Highlighter is all vegan, cruelty free, and only made with ingredients that are safe for you and the planet.
We always stick to high quality, simple ingredients that work. That means no useless fillers or harmful ingredients - our Pressed Mineral Highlights (and all our products) are free from:
Parabens

Silicones

Synthetic fragrances

Coal-tar pigments

Petroleum-based ingredients
We promise transparency about all our ingredients. If you are curious about what's in our products and why, you can explore our Ingredient Library.
No Plastic Based Glitter
Glitter is a big contributor to microplastic pollution in the beauty industry, which is why we think it has no place in our makeup. Plastic based shimmers and glitters are often found in conventional highlighter and other makeup, which then pollute our environment and waterways when they get washed down our drains, when we go swimming, or simply from falling off throughout the day.
Our Pressed Mineral Highlights are free from plastic based glitter. Instead, we use plastic free, mineral-based shimmers to give you a sustainable sparkle!
Plastic Free & Zero Waste
We are beyond thrilled to add the Pressed Mineral Highlighter to our selection of zero waste makeup products. Sustainability is so important to our company, and we know how much our customers value it too. We don't think self care and self expression has to be sacrificed for sustainability!
Packaging 
Our hand pressed highlighter comes in a bamboo compact equipped with a glass mirror. You might recognize these compacts from our Pressed Mineral Blush - the refills are completely interchangeable! Plus, you can refill them in a *snap* (see what we did there?).
When you've used up all your highlighter, you can simply pop out the metal tin and replace it with one of our refills. The refills come in plastic-free, commercially compostable pouches. Just pop it in the bamboo compact and highlight away!
Shipping
We ship everything to you completely plastic free - all of our shipping materials are either recyclable or compostable. We also ship all our orders and return orders carbon neutral at no extra cost to you!
__________


Have any questions about our Pressed Mineral Blush, or any of our other products? Feel free to reach out to us at contact@zerraco.com and we will happily help you out!
xoxo,
Brittney Kiera
Content Curator - Zerra & Co.
---